High school senior Kotoko Aihara has had a crush on Naoki Irie since freshman year. Unfortunately, there a few things are discouraging her from to him: he's a member of "Class A," the top ranking class in school, whereas she's in "Class F"; he gets the top score on every exam; and he's so smart, popular and handsome that he's been class president every year. When Kotoko finally musters up the courage to present him with a love letter, though, Naoki outright refuses it, telling her point blank–with a look of disgust and boredom—that he doesn't like "stupid girls." Poor Kotoko's worst nightmare! Her heart is broken, but then a change in circumstance forces Naoki and Kotoko to be together every day…!?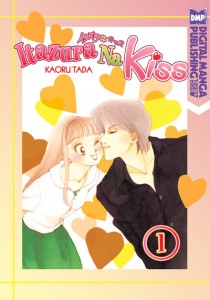 By Kaoru Tada
Publisher: Digital Manga Publishing
Age Rating: 13+
Genre: Romantic Comedy
Price: $16.95
Rating:






Buy This Book
Itazura na Kiss was originally published in the 1990's and was very popular. It was never finished, however, due to the untimely death of the mangaka, Kaoru Tada, in an accident in 1999. Initially, I wasn't going to read this title. But encouragement from other bloggers, particularly on Twitter, piqued my curiosity enough that I decided to give it a try anyway. When I'm reading a title, I can forgive a lot of things, but if I don't like at least one of the main characters, it just isn't going to work for me. And that's the problem I have with this title.
I found nothing likable about either main character Kotoko Aihara and Naoki Irie. Kotoko, the female lead is portrayed as not only not very bright, but as just plain stupid. First, I've said many times before that I hate airhead female leads, which does fit Kotoko somewhat. But she showed she could do so much more if she's instructed properly, as her reaching the top 100 at mid terms showed. She never cared enough to try until Naoki's rejection, which I also find annoying, but I don't find characters calling other characters stupid all the time funny. And it does happen constantly throughout this volume from both Naoki and his little brother Yuuki. I really don't like how mean-spirited it feels. Naoki is no better. He's obnoxious, rude and colder than the iceberg that sank the Titanic. He seems to enjoy looking down on others and feeling superior. I expect to see this in a rival or comedy relief character, not in the lead I'm supposed to be rooting for the female lead to get together with.
Tada does do a good job of capturing what teenagers are like in high school. Kotoko and her friends from F class are like average high school students. They'd rather go shopping rather than study. They wait until the last-minute to do their school work over summer break. They assume they will be going to college, but they just don't know what they'll major in yet. These elements of the story I liked. There aren't many titles out there that really reflects a teenagers frame of mind. One element that she does capture, that I don't like, yet is the corner-stone of the series, is that even through Kotoko knows what a complete jerk Naoki is, she still loves him. Her motives are rather shallow, as you'd expect from a teenage crush. She loves him for his looks and abilities, but there doesn't seem to be anything underneath that is redeeming about him.
The art is very dated. The series was originally drawn in the early nineties, and it shows. But after a few chapters, you get used to it. In a lot of ways, her style reminds me of Rumiko Takahashi's style, and Urusei Yatsura in particular. There were several scenes with Kotoko and her friends that brought up visions of Lum and Ataru and their friends.
Overall, Itazura na Kiss is an okay series. There are some nice moments with Kotoko and Naoki. Mostly they are when Naoki is forced to help Kotoko, through blackmail, to get through midterms and help most of F class get through finals through sheer numbers. Naoki really does help everyone out, even if it is done begrudgingly. Classic or not, this just isn't a series for me. Unlikable leads keep me from really enjoying the series.