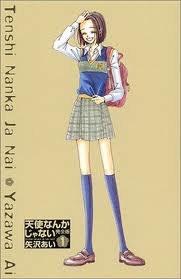 Finally getting to read another Ai Yazawa series and seeing how connected her characters are in her world, really makes me crave more! There are at least 3 of her previous titles that I would love to see licensed, two in her shared universe and one with a supernatural twist.
Tenshi Nanka Ja Nai – This series was originally serialized in Ribon magazine starting in 1991 and was the beginning of the shared universe that would soon grow. It's a high school slice of life/romance about Midori Saejima and Akira Sudo that chonicles their four years in school, both their relationship and adventures with friends. Seeing how addicting Nana is with young adults as the leads, I would love to see what she does with teens.  This title kicks off what becomes a series of connected titles through its characters without being a sequel or focusing on the characters. It's 8 volumes and in 1994 got an anime OVA adaptation. It's the start of Yazawa's world, where characters get to roam and mess with each other in and out of the stories.
Gokinjo Monogatari –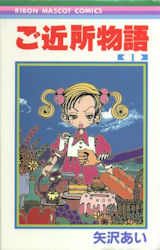 David Welsh of Manga Curmudgeon has already made a plea for this series, but I'd like to do it in the context of its relationship to both Tenshi Nanka Ja Nai and Paradise Kiss. This series also ran in Ribon and went from 1995 to 1998. It ran for 7 volumes. Even though this series is about a whole new cast of characters with Mikako Koda and Tsutomu Yamaguchi as the leads, the main characters from Tenshi Nanka Ja Nai make an appearance, and the lead vocalist Tsutomu is supposed to resemble, Ken Nakagawa, was Midori's friend. It's another slice of life/romance which Yazawa has shown to have a such a good grasp of. It got a 50 episode anime series in 1995.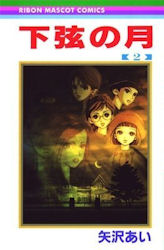 Kagen no Tsuki – This series doesn't connect to the universe of the other two. It's just a 3 volume series that ran in Ribon between Gokinjo Monogatari and Paradise Kiss from 1998-1999. It's a supernatural romance that straddles the line between dream and reality. Only read the wikipedia entry if you want to be spoiled about this series, but even so it sounds to be an intriguing read even before meeting Yazawa's characters. It got a live action movie made out of it, which was licensed here by Geneon. It seems to be out of print unfortunately.  A search for used DVDs in the usual places should bring it up.
I really hope publishers give these titles some serious consideration (I'm looking at you Viz!) Ai Yazawa has a real gift for creating engaging characters and interesting situations. It would be so cool to see her shared universe all in English, so an omnibus of Paradise Kiss would be in order, so they all look so nice lined up on a bookshelf. With Nana doing so well, and Paradise Kiss getting so much love recently, it's hard to believe that more of Ai Yazawa's work hasn't been licensed yet. That really needs to be fixed.