One-hundred and fifty years after its terraforming, Aqua, the planet formerly known as Mars, is now almost completely covered in water. A young girl named Akari Mizunashi lives in the city of Neo-Venezia, an exact replica of the old Italian city of Venice, where she works as a gondolier tour guide. While giving people tours of her beautiful city, Akari learns to appreciate her city when she helps an elderly tourist find his daughter, teaches a friend some history about ancient Venice and discovers the secret behind Aqua's unusual sun showers.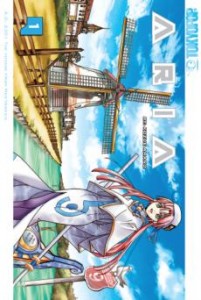 By Kozue Amano
Publisher: Tokyopop
Age Rating: Older Teen
Genre: Slice of Life
Price: $9.99
[Score: 4.5]
Aria, while set up as a new series, is actually a continuation of the series Aqua. The serialization of Aqua was moved from its original magazine to another, and the name was changed as part of the move. But that was the only thing that changed. The story continues to follow the adventures of Akari Mizunashi, a part-time Undine who pilots the gondolas through Aqua's waters. It still has all the great stories, characters and magic that began in Aqua.
The first chapter of Aria starts out by re-introducing the reader to the world of Aqua and its main character Akari. As Akari helps a lost tourist from Earth find his daughter and son-in-law, both the tourist and reader is shown the simple pleasures of Aqua and the joy Akari finds in them. The differences between Earth and Aqua are really emphasised, as the tourist comments on the "inconvenience" of Aqua less technological ways, but soon sees the freedom and joy one can find in doing things for oneself, as Akari advocates.
These differences between Earth and Aqua are more prominent in this series, giving Akari more new experiences. She gets to see an actual Torii gate on a trip to a cultural island, use a fireplace for warmth, and go to a hot spring. I really enjoyed Akari's amazement at having a fire going inside the house, something that obviously doesn't happen on Earth anymore. These two volumes take place in the Autumn and Winter, so Akari also gets to celebrate the winter holidays Neo-Venezia style, which is very different from what she's used to. New Years has everyone throwing out old things to make way for the new, and gathering together outside to celebrate. And then she is introduced to Carnival, a masquerade party that is 10 days long.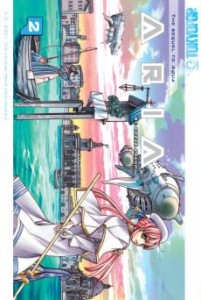 All of the characters from Aqua return. Alicia and President Aria of course, as well as Aika and President Hime, and Akatsuki, the Salamander from the Floating Island. She also makes a new friend. Al is a Gnome, one of the underground workers who make Aqua's gravity the same as it is on Earth. He's very knowledgable, and rather short, looking like a young boy while talking like "an old man," as Aika says.
The mischief and magic of the Martian cats continues in Aria as well. President Aria still provides plenty of comedy relief, though I think he looks very cute in his winter knit hat. He even gets his own bonus chapter, where we get to see a day in his life. The Cait Sith returns during Carnival, putting in a more public visit, where Akari gets to actually meet him, as well as get a glimpse into the Cat Kingdom. These chapters with the cats are my favorite, and feel the most magical. But it's not just mystical cats that Akari encounters. While visiting a Japanese Heritage Island, Akari and President Aria stumble upon a fox spirit parade during a summer shower. This chapter has a more spooky feel to it that the meeting with Cait Sith.
Aria continues to tell great stores that are relaxing and full of wonder. The sci-fi elements are more prominent in these volumes, and while the science is more fantasy than fact, I do enjoy Amano's ideas for the future. They almost seem plausable. While Aria is set up and can be read as a stand alone series, I found starting off with it unsatisfying. It felt like a chunk of the story was missing. Reading Aqua first and then picking up Aria made it a much better read. Aqua is often called a prequel, but it's really the beginning, and I'd really recommend reading them as such. I highly recommend both Aqua and Aria.