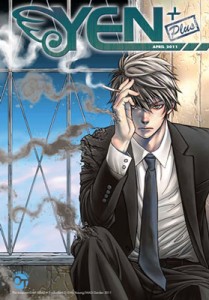 Yen Press continues to add to the Japanese side of Yen Plus (finally!) with a new series, The Innocent. It's an interesting collaboration of an American writer, Avi Avad (yes, THAT Avi Avad) with a Japanese writer and a Korean artist to create a unique story about love and vengeance. It has me intrigued to say the very least. Yen Press' talent search round is over (and they emphasis talent search, not competition),but nothing was found to be showcased in the magazine. It was interesting to hear that they are not just taking their time to find good creators, but that they are also giving advice on where promising creators can improve and be ready for the next round. I wonder if Tokyopop had taken as much care, if OEL would have actually taken off.
Milkyway Hitchhiking – In this chapter, Milkyway is just an observer, as the story is about Baek-Ryun a gesaeng and Chung who is a shoemaker. They seem to be constantly fighting, this time it's over Chung's cat Miya (Milkyway). He accuses Baek-Ryun of taking her, which she denies, but did. Their bickering leads to a confrontation where they both end up in a lake, and though they don't stop fighting, there is an implicit acknowledgement of feelings. It's a cute story of budding romance, though what happened to the premise of the series, that Milkyway is a cat that grants wishes? Did that get worn out fast, or is this just a long break? Or are we to think that Milkyway grants wishes that are left unsaid?
Witch and Wizard – Celia, Whit's friend, appears to Whit and Wisty, and tells how they can escape by going to the Shadowlands, though a brick wall that is guarded by several vicious dogs. The pair make it through, as well as one of the dogs, and gain a new friend. They are joined by Byron the ferret and introduced to Sasha who will take them to Freeland, one of the realms in the Underground not under the New Order, or,N.O.'s rule. But before they can get going they are surrounded by residents of the Shadowlands, the Lost Ones, who don't seem to want them to leave. Now that the story is out of prison, and the angst of their torture is past, the story is starting to take a turn for the interesting. Hopefully when they reach Freedomland, we'll get more information on the N.O. I'm not happy though that it's Wisty's girly scream that gets them into trouble at the end of the chapter. Realistic, maybe, but very cliche as well.
Aron's Absurd Armarda – Aron's feeling a little paranoid, and believes that the crew is out to kill him. It turns out he's not too far off, as the new crewman, Mercedes, is actually an assassin, sent to kill Robin. But why Robin? I have an idea about that. There's a short break while the crew celebrates the 100th strip (yes, it's that kind of comic) And the ship's cook gets some more abuse, not just from his shipmates from this his own body parts, when an attempt to appease his fellow shipmates goes awry. Aron's is that great breath of fresh air that keeps you from taking anything too seriously, especially after the angst of the James Pattison titles.
Daniel X – Using a time machine (of sorts), Daniel is able to see what happened with No. 5 first appeared on Earth and how he got the townspeople to forget about everything alien after a scene has been 'shot'. He takes Judy out on a date, which becomes a spying foray. He gets rid of the alien block for her, so she can truly understand what is going on. Though, I still don't completely get what's going on. What is No.5 up to? Is he filming a show, or is he planning an invasion? Or is it a little of both? It's still hard to tell. There still aren't enough clues to piece it together. Hopefully things will start to make more sense soon.
Jack Frost – As I predicted, there was a flashback with Avid, that showed how he became a vampire. Seems he and Sigfried were in competition for control of the South District. Guess who got betrayed. But it seems the Iyel that Avid met may not be the real one. With Avid gone now, Sigfried feels safe in declaring war on the Ethan and the East District. Hansen meanwhile has found No-Ah and Ethan. He tries to get No-Ah back, but Ethan's control over her father's soul keeps her from escaping. I'm not sure if this is an interesting turn of events or not. I suppose it all depends on what happens when Jack and Sigfried meet up with Ethan. I don't think it's going to go well for him, but then, that might not be such a bad thing.
The Innocent – The story starts with an angel being sent to find a man who has been executed for a crime he didn't commit. Johnny, a detective before he died, has been chosen by the mysterious Committee to help out others in order to clear out his misdeeds so that he can get a chance at reincarnation. Angel, is there to show him how to use his powers and keep him in line, which isn't going to be easy. He picks up quickly on his ability to use ash to affect the physical world, but is just as quickly swallowed by vengeance when one of the men who helped to frame him shows up while he is trying to help a woman. While playing by the rules isn't his forte, he decides to go along with the Committee, just for another chance at the men who framed him. There isn't anyone nice in this first chapter. The angel who is sent to help Johnny has nothing but contempt for humans, but has a job to do. Johnny himself is an anti-hero. He's definitely no angel, but he really cared for his sister and will do anything to avenge her. And there are indications that he has a greater power than most spirits. Is that why he was chosen? Or has the committee bitten off more than they can chew with him? It will be interesting to find out.
Highschool of the Dead – This chapter introduces more survivors. School nurse Shizuka Marikawa and Saeko Busujima,the captain of the Kendo club (of course). They pick up a military otaku Houta Hirano and self-proclaimed smart girl Saya Takagi.  Takashi and Rei get out of the astronomy club room and meet with the new characters, and make a break for the school van, intent on finding their families. A newscast has shown them that it's not just their town, but the whole world that is dealing with the zombies. As they make a break, another group of students, led by Shidou follow. Rei warns not to help Shidou but they do anyway. He is obviously not a nice guy. The addition of this obviously power-hungry opportunist doesn't fill me with hope. I really am not interested in reading "Lord of the Flies in Zombie Land". I'm really hoping he doesn't stick around long. Though, he's obviously going to be thorn in everyone's side if not now, then later.
K-On! – It's the start of another school year, that has the girls now seniors. They have their class trip to Kyoto, which they proceed to spend at a music shop. They have to decide on their future plans after high school, which of course Yui and Ritsu can't seem to come up with anything. And then Azu starts to get panicky about possibly being the only member of the Pop Music club next year. Yui's past is revealed, and it shows she hasn't changed much from elementary school, and Yui freaks out about leaving her guitar at school overnight. The best thing I can say about these chapters, is that at least they are different from the first two volumes.
Yotsuba&! – Yotsuba, Koiwai and Jumbo are headed to the electronics store to buy a camera. Fuuka decides to come along since her midterms are finished. Once they arrive, Yotsuba finds the cellphone displays, and her imagination takes off again. This single chapter doesn't really go anywhere, and it ends on a bit of a cliffhanger, if you care about what it is that Yotsuba is imagining.
The addition of The Innocent continues to add to the breakup of the moe block that dominated the Japanese side for so long, but it's only a one volume story, so it's only going to last for 6 months or so. K-On! is also coming close to its end. With the last volume scheduled to come out in December, you know it's going to end the magazine well before that. We already know that Yen has another OEL planned with the adaptation of Soulless, but do they have anything more planned for the Japanese side? Or is it becoming the neglected side with no Japanese publishers willing to serialize online? Square Enix shouldn't have a problem with it. It's not like it's putting content that isn't already available in print in English and has been for months or even years.