Rikuo has successfully defended his classmates from the vicious Inugami's mad-dog attack. But that battle is just a hint of what's to come. The sinister Tamazuki has remained in his human form so far, but now he's unleashing his true form: a ferocious yokai leading the 88 Demons of Shikoku, a disciplined demon horde hell-bent on taking the Nura clan out. With Nurarihyon missing, Rikuo must step up as a warrior and a leader.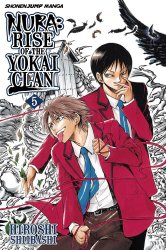 By Hiroshi Shiibashi
Publisher: Viz Media
Age Rating: Teen
Genre: Supernatural/Action
Price: $9.99
Rating:





Rikuo really starts to step up as under-boss in this volume. With his grandfather, the Nurarihyon, gone, it's up to him to defend the Nura territory. He finally shows some initiative when he sends Gozumaru and Mezomaru to infiltrate a Shikoku yokai gathering to gather intelligence. And he acts on that intelligence by taking the fight to Tamazuki rather than waiting for him and his forces to attack the Nura Main house. He's pretty impressive in his night form during this fight until he gets blindsided, literally.
This battle with Tamazuki really shows the cycle of the generations within the Yokai clans. Tamazuki is ambitious and hungers for power, just as his father, Inugamigyobu once was, reaching out into Nura territory, while Rikuo considers creating a new 100 demon parade rather than working so hard to keep his Grandfather's retainers together. Both young yokai can be seen as walking in their predecessor's footsteps, while still making their own mark.
This volume of Nura was better in terms of moving the plot forward. It isn't just about Rikuo having to deal with some threat and having his Night Form save the day. There is a confrontation between Tamazuki and Rikuo, but it and the events that lead up to it carry some weight. Yukki-Onna might even prove to be worth something more than a maiden-in-distress, though I don't' think I'll hold my breath on that one.
Nura: Rise of the Yokai Clan continues to be a series that I don't mind reading online for free (as part of a Shonen Jump subscription), but it still hasn't shown itself to be a series worth keeping on the shelf.