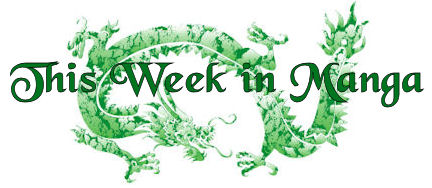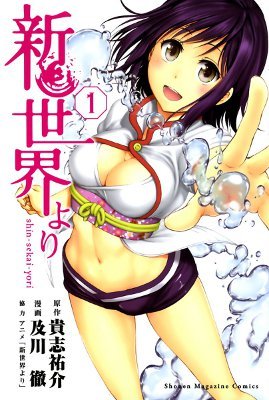 Vertical just doesn't seem to know when to quit! At their panel at Genericon in Troy, NY they announced two more titles to come out at the end of this year. Pink is a one-volume title that follows Vertical's determination to be different. It is about Yumi, a girl who balances her time between work, love, her pet crocodile and her night life as a prostitute to feed said crocodile. Like so many of Vertical titles, this one sounds quirky, but I don't know if it's for me. I'll have to give it a "wait and see" for now. Also announced was From the New World, an adaptation of a novel by the same name. It is 100 years in the future and 5 kids have been raised in a town described as a utopia. But when they learn the truth of the world outside, they throw themselves into danger to save their friends and the world itself. Readers have been asking Vertical to license the novel, but maybe this will tide them over. I'm kind of interested in this, especially since there's been a lot of talk about the anime which is streaming on Crunchyroll currently. I'll give it a "can't wait."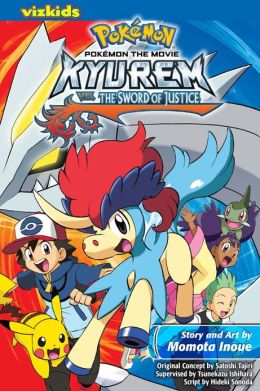 For readers with kids and/or fans of Pokemon, Viz has announced they will release the tie-in manga for the new Pokemon movie, Kyurem vs the Sword of Justice. Not a big surprise I know, but don't write off these tie-ins. They can be pretty good. This title continues the anime's adventures in Black and White's world of Unova. It will be out next week on March 5. They also announced they would be continuing Pokemon Adventures with the first volume of HeartGold SoulSilver, due out in August. The Pokemon Adventures series is moving fast to catch up with Japan. And for those who could wait to read the manga adventures in Black and White, Viz has announced that it will be re-releasing the series in full volume sizes. So if you like your bookshelf balanced, now is the time to pick them up. The first volume will be out in July.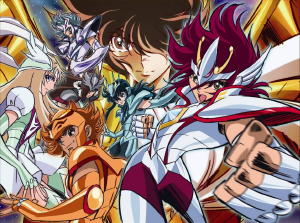 Over in Japan, another new Saint Seiya manga series will be starting. Based on the new anime Saint Seiya Omega, the manga adaptation will cover the new arc set to start in the anime starting in April. The series takes places several years after the original Saint Seiya and features a whole new cast of characters as the Bronze Knights protecting Athena/Saya. This arc will feature a new villain, Pallas, a goddess with a deep hatred for Athena, and her own army of warriors, the Parasites with their own armor, "chonotector" which allows them to manipulate time. It will also introduce a new cloth bearer, Subaru, who will fight alongside Koga, the new Pegasus. This will be the fourth new manga series based on the original Saint Seiya. I loved the original Saint Seiya and would love to read all the new ones they've been releasing! Do Want!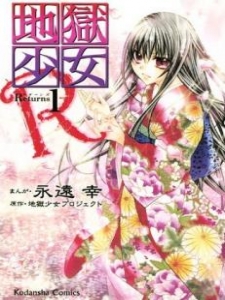 Ending in Japan this month is the sequel series to Hell Girl, Hell Girl R. It is about Enma Ai, a girl who, if you catch her website, you can request to send someone to hell, but the price is that your soul will go to hell as well. Del Rey manga released all 9 volumes of the first series. It's a great tween title filled with lots of melodrama and terrible people getting their comeuppance. This second series went 10 volumes. The first series didn't sell so well, but I liked it, and would love to see this series as well. Do Want!