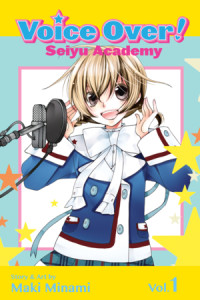 After a long and arduous process that involved slips of paper, a bowl and a daughter, the winner of Voice Over Seiyu Academy volume 1 has been decided! And the winner is…Lostty. She currently runs the blog Anime Princess. Go check it out! I hope she enjoys the volume, and would love to hear what she thinks about it.
To enter, I asked for entrants to state if they liked subs or dubs. The consensus was for Subs! That's my preference too personally. I find a lot of the voices chosen don't fit quite so well, especially if I've seen the anime in Japanese already. There aren't a lot of shows available that go the other way around, but I might check out an episode or two of the Japanese version of My Little Pony: Friendship is Magic to see if it works both ways!
Congratulations Lottsy and thanks to every one who entered!