The March issue of Kodansh's Shonen Sirius magazine out this month has announced that Devil Survivor, by Satoru Matsuba,will end in the April issue out at the end of February.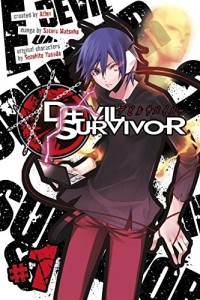 Devil Survivor is the manga adaptation of the Atlus game Shin Megami Tensei: Devil Survivor which came out on the Nintendo DS back in 2009. The game was meant to be a re-introduction of the Shin Megami Tensei series and the manga adaptation began in 2012.
The story follows three teenagers, Kazuya, Atsuro, and Yuzu, as their idyllic summer day turns into a night of survivor horror as demons come out of their gaming devices called COMPs, and they must battle them to control them in order to survive. There are 6 volumes out in Japan, and Kodansha Comics has released the first two volumes here.
The first volume read a lot like the training level of a video game, but I liked the characters, and was entertained enough that I'm looking at picking up the second volume. Hopefully if it does well enough that we can get the sequel, Devil Survivor 2 manga adaptation licensed for release here as well.