Wrongly executed for crimes he did not commit, a former detective is given a second chance at life. To earn that chance, however, the man now known as Ash must use the supernatural abilities with which he has been infused to prevent the deaths of other innocents. But is Ash willing to dedicate himself to helping others, or is his thirst for vengeance against those who destroyed his life and his loved ones too powerful to ignore?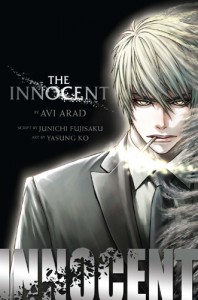 By Avi Arad; Script by Junichi Fujisaku; Art by Yasung Ko
Publisher: Yen Press
Age Rating: Older Teen
Genre: Supernatural/Action
Price: $11.99
Rating:





I really wasn't sure what to expect when I first heard about this title. With a collaboration of Japanese, American and Korean creators, anything was possible. And I wasn't too sure about the story when it first started serialization in Yen Plus. But as the characters and world was built up, a solid story emerged that both fans of manga and comics could enjoy.
The Innocent is the story of Johnny Wright, a detective who is far from a hero, but does want to see justice done. In the case of Frame Burns, crime boss, he wants revenge. And he's given that chance when the mysterious "Committee" allows him to return to Earth as an Emissary after he is executed for a crime he didn't commit. With the help of Angel, his handler assigned by the Committee, he must help others who have been wrongly accused in order to move on. As long as he doesn't keep getting distracted by his desire for revenge. The chapters start out with an "Innocent of the week" feel to them, as Johnny is getting a new person to help in each chapter. But they soon turn back to Johnny and his background story.
Johnny is very much an anti-hero. He doesn't follow the rules, in life or death. Even though he's been mandated to help others, his thoughts become focused on revenge after running into Frame's enforcers on his first assignment. He is violent and doesn't seem to care about anyone, but he still manages to get the job done. He also has an amazing command of his Emissary abilities, something that, like his attitude, surprises Angel. He (yes, HE), is put in charge of Johnny, giving him his assignments, helping or reigning him in when necessary. Angel doesn't like humans, and seems to have had a problem with a former emissary that lost him his wings. Johnny and Angel are constantly at odds, as Johnny keeps trying to do things his way, while Angel has to get him to do it the Committee's way.
There are two other characters that are central to the story. Rain was Johnny's lawyer, and as the story progresses we learn she was his sister's friend and may have been something more to Johnny. She feels guilty about losing Johnny's case (and him), because she chose the law over him, and is now trying to pick up where Johnny left off against Frame. And then there's Frame's assassin, Whirl, a very strange and creepy guy who is always asking his victims "Wanna play?" and brandishes a knife. He seems to love to kill things for fun and can somehow see Johnny. He is also very determined, becoming quite the thorn in Johnny's side at the end.
I enjoyed reading The Innocent. The story read much better as a single volume than serialized. It didn't feel disconnected or confusing as it did in Yen Plus. It's got a great cast of characters, and it quickly builds up a world that is consistent, interesting and not too different from our own. The story moves as a quick pace, and ends on an open-ended note, leaving enough loose ends for the possibility of seeing these characters again. It's a good origin story. The art looked great. I really like Johnny always looking perfect in his suit. The action scenes were easy to follow, and as Johnny gets better with his powers and challenged by Whirl, they grow in complexity without getting a "shonen-power-up" feel. Yen Press' presentation of the book is very nice as well. The matte cover with silver lettering gives it a classy feel.
Overall, The Innocent is a good single volume story. It has strong characters and a well written story that is thrilling and thoughtful. Non-manga readers can find plenty to like in this series as well, as it lacks a lot of the manga conventions they say they hate. I really wouldn't mind seeing more stories written with these characters. I hope it sells enough to justify bringing them back.