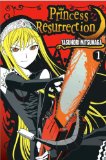 Princess Resurrection Volume 1

By Yasunori Mitsunaga
Publisher: Del Rey Manga
Age Rating: Older Teen
Genre: Supernatural
Price: $10.95
Rating:





Werewolves, demons, monsters, vampires – all these ferocious creatures are afraid of the same thing: the beautiful Princess Hime, an awesome warrior who fights the forces of evil with a chainsaw and a smile.  Not only does she look great in a tiara, she has magical powers that allow her to raise the dead.  She's a girl on a mission, and with the help of her undead servant and a supercute robot, there's no creature of darkness she can't take down!
Take a Princess with a chainsaw, an androids in maid costume and a bit of a loser student who gains semi-immortality by accident and throw them into a battle with monsters out of a drive-in double feature and you have the first volume of Princess Resurrection, a series that balance's campy horror with a more serious fight to become the King of Monsters.