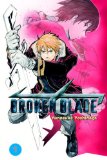 Broken Blade Volume 1

By Yunosuke Yoshinaga
Publisher: CMX/Flex Comics
Rating: T+ (Older Teens)
Price: $9.99
ISBN: 978-1-4012-1882-9
Rating:





Rygart Arrow is a man with a problem.  He's one of the tiny minority, perhaps one in a million, who cannot charge the quartz crystals that power all of the machines in his world.  He cannot drive vehicles, he cannot use machinery, he's what is known as an "unsorcerer".  However, he is well educated and old college friends with the King and Queen of Krisna, who are facing an incursion from their neighboring nation of Athens.  When they learn that the Athen army is led by Zess, the final part of their college foursome and he's marching on their borders, they call on Rygart in their time of need.  Can he figure out how to operate the Under-Golem, an ancient magic-less machine in time to save his friends?