I like to do crafts, cross stitch in particular, so I thought I'd share some of the projects I've done over the years.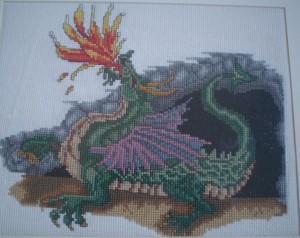 This is one of the first counted cross stitch projects I ever completed.  Fire Breathing Dragon from the pattern book Castles, Dragons, and Unicorns from Pegasus Publications.  It's also the first project I framed, and sits on my wall at work.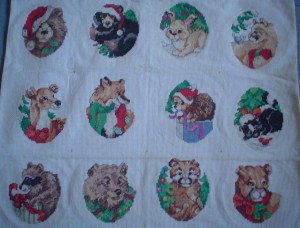 This is a series of Christmas ornaments from the kit, Woodland Christmas from Bucilla, I did about 15 years ago.  It's no longer available as far as I can tell.  I finished all the stitching.  I just haven't gotten around to making them into ornaments yet.  I need some other supplies that I always forget when I'm at the store.  Someday.
This was my first attempt at using waste canvas and putting a design on clothing.  It was a Christmas gift to my husband several years ago.  It's from the pattern book Wild Eyed from Pegasus Publications.  It's held up pretty well to all the wear and tear of washing and wearing I think.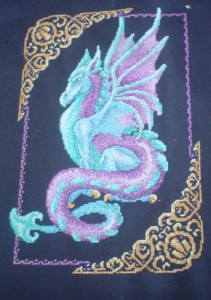 This was a kit, Mythical Dragon from Janlynn that I worked on, on and off, for several years.  It used a blending filament that was a pain, so I'd work on it for a while, put away and then pull it out again.  I finally finished it about 7 years ago, I think?  It's in the "to be framed pile" as are many of my other projects.
I'm a total cat person, so of course, many of my patterns are of cats.  But one of my favorites have been the Kats by Kelley from Calico Crossroads.  I did these with intentions of hanging them in the computer and bathrooms, but haven't gotten around to getting the frames for them yet.  I have probably another 10 of these as kits.  I love the cat-antics in all of them.
I did a bunch of sweatshirts as Christmas presents a few years ago the free patterns I got online of The Millenium Cats by Pamela Kellog of Kitty and Me Country Crafts.  So I decided to make some for me!  I of course did January's cat "Midnight" for my birthday.  Then I did a Gemstone Dragon from the freebies Dragon Dreams used to do.  This is from the 2001 series.  It's the garnet, January's birthstone.  I made a slight change to the pattern, using the new (at the time) DMC metallic thread instead of the Kreinik called for in the pattern.  It still came out nice, I think.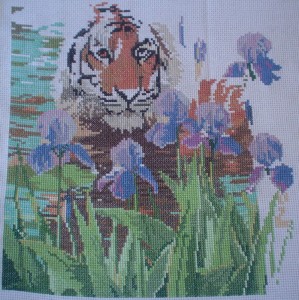 I have one work in progress.  It's a kit, Mom and Baby Tiger from Candamar Designs.  I haven't worked on it for a while, but hope to get back to it again soon.