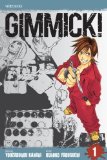 Gimmick! Volume 1

By Youzaburou Kanari
Publisher: Viz Media
Age Rating: T+ (Older Teens)
Genre: Action
Price: $9.99
ISBN: 1-4215-1778-7
Rating:





In 1986, the movie F/X, starring Bryan Brown as special effects maestro Rollie Tyler and Brian Dennehy as Lt. Leo McCarthy came out, followed by F/X 2 in 1991.  It was so popular that they made a TV series out of it in 1996 which ran for 40 episodes.  Now we get the manga adaptation… wait, it isn't?
Could have fooled me.
Gimmick is the story of Kohei Nagase and his crew at Studio Gimmick, a small special effects house that seemingly does work for just about everyone.  Kohei is a makeup wizard that can do just about anything with his silver spatula and people come to him from far and wide for his expertise.  Kohei and his sidekick, stuntman Kannazuki, move from job to job, and rescue the odd actress along the way, as Kohei tries to become the ultimate special effects man.
It's really impossible not to compare Gimmick to F/X, especially when in the back of the manga, Youzaborou Kanari tries desperately to take credit for the whole idea.  He says he came up with the idea in 2003 and was afraid someone would use the idea before he could find an artist.  You're about 15 years too late for that, pal.  I wouldn't say, but your stories come almost entirely from the TV series.  Kohei is working on a theme park house of horrors?  Rollie Tyler did effects on a movie being filmed in a theme part house of horrors.  There's nothing particularly original about this idea, Kanari can give up claiming that there was.
That said though, Gimmick is actually pretty good.  Yes, Kohei's effects are really pretty silly and teetering dangerously close to magic, if I had a dime for every time he did something that is ridiculously unrealistic, I'd be rich.  F/X showed, at least in the movies, that effects are a matter of lighting and viewpoint and if you aren't careful, the whole house of cards comes down. Kohei and his amazing spatula whip up things that can pass any amount of muster in seconds and there are times when you'll be fighting to maintain your credulity at his magic.
Fair warning, this is an older teen title which means there is a fair bit of gratuitous fanservice, nudity which has no other reason than to make guys living in their mother's basements drool.  It's pointless and unnecessary and I was unable to find a single nude shot in the book that actually had to be there for story purposes.
If you're looking for something silly for a quick read, Gimmick fits the bill.  If you're looking for a good story about special effects saving the day, just go straight to Best Buy and pick up the two F/X movies.  You'll be glad you did.