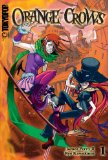 Orange Crows Volume 1

By: James Perry II and Ryo Kawakami
Publisher: Tokyopop
Age Rating: 13+
Genre: Fantasy
Price: $10.99
Rating:





Five years ago, a young witch named Cierra broke the one unforgivable law of the witch society: attempting to create her own magic. Her unlawful tampering burned down a research room and injured the Mayor's daughter, Cierra's best friend. As punishment, she was exiled to the Wilderness, a barren wasteland crawling with witch-devouring Fairies and the bloodthirsty Forsaken…After surviving for five ruthless years, her exile has now ended, and she has been ushered back to civilization, only to discover that the world around her has changed greatly. Will Cierra be able to adjust back to a society that abandoned her? And if her freakish new ability that links her to the terrifying Fairies is discovered, she may not be let off with mere exile this time…
Orange Crows is a new OEL manga from Tokyopop.  I really knew nothing about it, and the cover didn't intrigue me in anyway, but with a link to read the whole volume for free coming in my email, I decided to check it out.