"On the Tenth Day of Christmas, my true love gave to me, Ten Inukami,"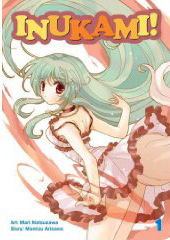 Keita Kawahira is from a family of Inukami tamers, people who contract with dog-spirits to vanquish evil, but he is considered a failure since he couldn't make a contract with one.  One day, his grandmother and head of the clan, tells Keita that there is an Inukami that is willing to contract with him.  He goes to meet Yoko, a beautiful girl with green hair and a big, bushy gold tail.  He's thrilled at first, until he finds out how difficult Yoko is to handle.
Inukami is based on a series of light novels, and has only one volume out from Seven Seas so far, but I have high hopes for the manga after having seen the 2006 anime (in fansub only).  Inukami is not a harem manga.  It is closer in relation to a series like Urusei Yatsura.  It's a romantic comedy about Keita and Yoko's relationship.  She wants to be his girlfriend, but he has a roaming eye.  None of the other females want anything to do with Keita, not that Yoko will let him be with anyone.  She can shoot fire from her finger and teleport anything, though mostly it's Keita, sans his clothes.  So there's plenty of comedy, but there are some more serious moments, as Keita and Yoko work out their relationship.  The first volume is just about the creation of this relationship, though at the very end, there is the introduction of Kaoru Kawahira, Keita's cousin, and his ten female Inukami, all of whom are completely devoted to him.  If you wanted a harem label for this series, pin it on this character.
I really enjoyed this first volume.  The balance of comedy to drama is just right, and the fanservice is evenly metted out as well.  Seeing Keita trying to find his clothes makes up for all the Yoko shots.  It's definitely more for the older teen audience, at 16+, but it's definitely worth the read if you like romances that involve denial and pain.
"Nine-tailed Fox Spirit,
Eight Dragon Priestess Guardians,
Seven Dragon Balls,
Six Girl Volleyball Team,
Five Bronze Saints!
Four Friends in Winter,
Three Siblings Cards,
Two Girls named Nana,
And a One Piece for the Pirate King."