Mafuyu's plan to be an ordinary student seems to be working out so far. She's got a friend (Hayasaka) and a plan to join a totally normal school club (crafts). But homeroom teacher Mr. Takaomi has something different in mind—he wants Mafuyu to take down the notorious leader of the campus gang!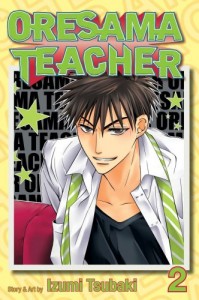 By Izumi Tsubaki
Publisher: Viz Media
Age Rating: Teen
Genre: Romantic Comedy
Price: $9.99
Rating:





I really didn't care for the first volume of Oresama Teacher. While it had its moments, I thought they weren't enough to overcome the parts I didn't like. But I went ahead and checked out a few more volumes. I started to see some potential in volume 2 as the story revolved more around Mafuyu and Hayasaka.
I really enjoyed this second volume, which came as a big surprise to me. I was expecting to see more of Takaomi abusing Mafuyu, but Takaomi was just a side character.  Instead there was more interaction between Mafuyu and Hayasaka, and the introduction of Kyoutaro, the school Bancho. Hayasaka and Mafuyu's search for a club to join so they could avoid Takaomi was funny. I loved the Craft club, which was filled with Macho men who looked straight of Fist of the North Star or Jojo's Bizarre Adventure. I know it's becoming cliché, but I couldn't stop laughing at seeing the big, muscular men embroidering and making stuffed animals. Their pressuring to get Hayasaka to join, who turned out to be surprisingly good at embroidery just made that chapter one of the best in this series so far.
Kyoutaro was amusing too. He acts tough and loves to fight, but has a soft side. He loves a children's show, Nekomata and it self-titled main character. The day Mafuyu spends with Kyoutaro was just a lot of fun to read. The reveal at the end of the chapter was great and has a lot of potential for the future.
Hayasaka's denseness knows no bounds. He searches for Usa-chanman and eventually figures out that she is Mafuyu, but is easily tricked out of it again. His denseness might annoy me, if he wasn't such a great match for Mafuyu. But now Mafuyu has a good reason to keep her identity a secret from him. She wants to be friends, not idolized by Hayasaka because of her fighting ability. So she has to keep it a secret. This means then that she has to come up with another disguise, a boy named Natsuo, who Hayasaka treats as peer instead of an idol. I liked this second disguise. Mafuyu looks better as Natsuo than as herself!
I still dislike Takaomi. While his scenes are kept to a minimum this volume, his plan for Mafuyu is revealed and it's typical of a low-life punk. He intends to use Mafuyu and Hanasaka to help him win a bet with the School President. So he's still complete slime, but with less of his slimy trail in the title and the addition of the Bancho actually got me feeling more upbeat about Oresama Teacher. I just might change my mind about it.