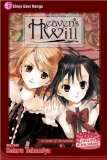 Heaven's Will

By Satoru Takmiya
Publisher: Viz Media
Age Rating: Teen
Genre: Supernatural/Romance
Price: $8.99
Rating:





Sudou Mikuzu has a very special talent – she can see ghosts.  And because of this predisposition, she' become a magnet for all sorts of unwelcome monsters.  Luckily for her she's just met Seto, a friendly, cross-dressing young exorcist.  Sudou needs protection from all the creepy phantoms bugging her, and Seto needs to practice his exorcism skills.  consequently, the pair decides to team up and help each other.  In return, Sudou promises to back a cake every time a ghost gets zapped!
At first glance, Heaven's Will appears to be a typical supernatural romance title with a cross-dressing twist.  Once you start reading though, you'll find that it's actually the start of an interesting that should have been given more of a chance to develop.  The characters really grown on you, and the story, which has some sad twists to set it up, could have gone on to do so much more.