RL kept me busy in May, so it wasn't until this month that I got back to my studies on Smart.fm. I've settled into a schedule now of taking two lunches a week (that 1 1/2 hours a week) to continue my studies. Considering my RL schedule, this is the best that I can do at the moment, and it's actually working out for me!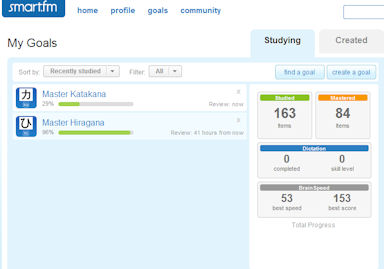 I started with Smart.fm's Master Hiragana program. I was still studying hiragana when I started, but as of last Friday, I had all 104 hiragana studied, and had mastered 84. The program takes you through the symbol pretty thoroughly, making sure you can recognize them both in Japanese, and romanized. It uses multiple choice, and times how long it takes you to choose the right character. It also does a spelling quiz by showing you the symbol and then you have to type the correct letters. Any mistakes takes you back to the study screen. And as you get closer to completing all the characters, it starts stretching out the amount of time before you can study again. After I hit 84 last Friday, it stopped letting me study and test, and told me to come back next Friday. So I'm now 40 hours and counting to completing my first goal!
Well, since my lunch hour wasn't over at the time, I started up the Master Katakana. I was going to work on it anyway. After only about an hour of working on it, I'm at 59 characters studied. I can keep going on this goal, since I'm still studying. Also recently added to help with the studying are two programs, Drill Beta and Brain Speed. Drill Beta is just is just want it sound like. It drills you on characters you've studied, and adapts to you to improving learning. Brain Speed is like an arcade game. I do okay on this, until it starts to speed up. I get flustered easily and lose more because of hitting the wrong key and not knowing the answer. This is why I don't do well with a lot of video games.
I've also already decided what my next goal will be after I've mastered Hiragana and Katakana. I will be moving on to vocabulary with Core2000: Master the Top 2,000 Words in Japanese. I anticipate this goal will take a little longer than Hiragana and Katakana. There are 10 separate, smaller goals that make up the full Core2000. Mastering these words and making sentences will hopefully get me closer to my goal of reading Japanese. One of the things I really like about this program, is that I can see the progress I'm making, and I can feel I'm actually accomplishing something, even if the rest of my day doesn't seem that way.