I have to remember that no matter how into it he seems… I'm just like food to him.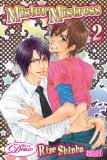 By Rize Shinba
Publisher: Aurora Publishing/Deux Press
Genre: BL/Yaoi/fantasy
Rating: 18+/M/Mature
Price: $12.95
A lot of BL manga have supernatural elements, but surprisingly few of them use those supernatural elements to drive the sex or even to provide variations on its usual ins and outs. (Pun very much intended.) This is a missed opportunity, as Mister Mistress proves; sex between ordinary humans is a rich and complex casserole in the hands of a skilled storyteller, and the supernatural can add an extra pinch of spice that makes the whole dish that bit more stimulating.
The premise of Mister Mistress is a pornographer's dream: Rei is a succubus — that is, a male demon who feeds on sexual energy. He is specifically forced to feed on the energy of men. As of the opening of volume 2, he is haunting and feeding on Fujimaru, a not-too-bright high school student who has a cute younger brother and suffers delusions of heterosexuality. Needless to say, Rei is very good in bed and very hungry. Needless to say, Fujimaru enjoys the sex but doesn't really like the idea of his sex life being Rei's dinner. Really, with a basic idea like that, you'd have to make an extra-special effort to screw it up. And Rize Shinba has the skills to pull the story off.
The sex scenes are slightly censored, which doesn't stop them from being highly erotic; Shinba amplifies the charge inherent in a relationship between a mortal human and an incubus by giving Rei various sexually-oriented magical powers and a penchant for keeping Fujimaru at the peak of anticipation. Fujimaru's general cluelessness makes both his ability to cling to the notion of being heterosexual really and his inability to figure out Rei's true feelings a lot more plausible than they might have otherwise been, and the story is nicely paced so that the climactic confession scene comes at exactly the right moment and strikes exactly the right note of tenderness and vulnerability.
For the most part, Mister Mistress is a fairly straightforward and predictable read, but it has its moments —  the ditzy Fujimaru has a depth and intensity of feeling that might take you by surprise, and the mysterious Rei has a soft side that isn't immediately apparent. Worth a look for BL lovers.