I'm sure his confession to me wasn't a lie. But this light-hearted mood of his… how should I put it… did he really mean it?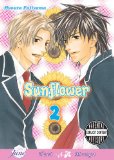 By Hyouta Fujiyama
Publisher: Digital Manga Publishing/Juné
Genre: BL/Yaoi
Price: $12.95
Rating: M/Mature/18+
The first volume of Sunflower ended with Ohno realising that something was up with his relationship with Imaizumi. The second picks up where the first left off: Ohno takes a day to think things through, then confesses to Imaizumi after a meeting with his first (unrequited) love makes him sure of his feelings. Imaizumi quietly freaks out, and for most of the rest of the volume the story alternates between Imaizumi trying to figure out his own feelings and Ohno patiently and persistently pursuing him.
The thing about "pursuit" in romantic stories is that it can very easily shade into "stalking", when a suitor insists a little too fervently that he and his beloved are Meant To Be, or that the beloved does love him really, no matter what s/he might think right now. BL manga generally has a tendency to gloss over issues of consent, to a degree that can sometimes be disturbing. (E.g. in World's End it's depicted as excusable for a guy to handcuff his boyfriend to a bed out of jealousy; and that's without even getting into all the stories where an outright rape spells the beginning of True Love.) Predictably enough, Hyouta Fujiyama (who is always too clever to get trapped by clichés) sidesteps this problem deftly and carefully: Ohno doesn't give up on Imaizumi, but doesn't impose on him either. Indeed, his apparently carefree attitude is enough to make Imaizumi worry that the original confession was insincere — though not for long.
Imaizumi's struggle to understand both Ohno's feelings and his own, and Ohno's careful balancing of his own desires against Imaizumi's reactions make for compelling reading. Once again, Fujiyama avoids contrivance and lets the relationship grow organically. Both boys come across as real people struggling with a real relationship, and their little dramas and crises are heartfelt and touching.
The backup story, "More Than Just Heart, More Than Just Body", is if anything even better than the main story. It mostly deals with two side characters from Sunflower, the student council president Kozue and his assistant Sumiyoshi, who are both sex friends and in a feudal master/servant relationship due to their families' respective positions. The story delicately explores the ramifications of this inequality and how Sumiyoshi decides to deal with it, as well as continuing Ohno and Imaizumi's story.
Hyouta Fujiyama's BL is always worth reading, and Sunflower is no exception. It's warm, believable and beautifully done.