A mother who gives her son alcohol when he's sick from drinking, and a sick son who's happy to get it… what's with this family?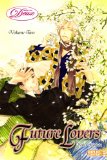 By Saika Kunieda
Publisher: Aurora Publishing
Age Rating: 18+
Genre: BL
Price: $12.95
The first volume of Future Lovers had two delightful chapters dealing with the romance between Kento, a highly conventional chemistry teacher who once dreamed of a traditional marriage that would make his grandparents proud, and his flamboyantly gay colleague Akira, who only lives for the moment. Unfortunately, the volume's overall quality was brought down by the backup story, a relatively generic tale of pining and incest. Fortunately, Future Lovers volume 2 is all Kento and Akira, all the time, and unsurprisingly it's a delight to read from start to finish.
In the stories collected in this volume, Kento and Akira's intimacy grows in fits and starts, the two of them bouncing off each other's peculiarities and learning to adjust to them, without becoming any less themselves. People from Akira's troubled past show up, including his mother and an old mentor, and Kento has to swallow hard and face up to his own prejudices and preconceptions more than once; meanwhile, Akira stubbornly refuses to accept Kento's plans for the future, not wanting to trust that their relationship is going to last. "You'll live to be a hundred and I'll be ninety-nine," says Kento, "that's my goal!" Kento believes in the future, and much to his surprise, being with Kento makes Akira believe in the future as well.
It's rare for BL manga to deal with the social difficulties that come with being gay or being in a same-sex relationship, but Future Lovers is an exception. Kento's grandparents know about his relationship with Akira and are not best pleased by it; he has trouble deciding what to tell his friends when he meets them while he's out with Akira; and, serious-minded and responsible as he is, he doesn't just want to be with Akira, he wants to marry him — but that's not legally possible. "If I died, you'd just be a co-worker in the eyes of society," he says to Akira. "You'd only learn about my death through some postcard." This realistic note never overbalances the story by making the comedy seem grim or by turning the sweet moments bittersweet; rather, it grounds the characters in the world we know, so that even the slightly farcical humour seems natural, and the sprightly, cartoony art style Kunieda uses serves to exaggerate that humour without loosening the story's hold on reality.

Future Lovers is an exceptional BL manga: funny and charming, it's also proof that it isn't necessary to whitewash over the issues surrounding same-sex relationships to have a sweet, romantic story to tell — quite to the contrary: realistic characters with ordinary concerns, affected by the same prejudices and difficulties as real people, make for not just good stories but some of the best.