"Sometimes friendships fail. Sometimes love doesn't. But you'll never know until you try."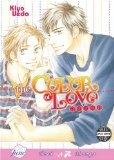 By Kiyo Ueda
Publisher: Digital Manga Publishing/Juné Manga
Genre: BL/Yaoi
Rating: M/Mature/18+
ISBN:9781569707463
Price: $12.95
The ranks of BL mangaka are constantly being replenished by new talent, and as a reader this presents me with a dilemma: on the one hand, it's always good to find new artists whose work I can enjoy and whose names I can learn to trust; but on the other hand, with a new and inexperienced artist there's a higher chance of the work they produce being rough, clichéd, derivative, and otherwise less than brilliant. Not to mention that an artist's first volume is almost always an anthology, which presents its own problems; anthologies are often patchy even when the artist in question is well-established.
It was a delight, then, to read The Color of Love, a debut anthology which even includes two doujinshi (self-published) stories, but which is consistently entertaining and fresh, with every story in the collection offering a new spin on the old well-worn tropes of BL romance. The title story is a sweet and charming high-school-best-friends tale; the kind of thing I've seen a hundred times before, but done with a lightness and sincerity that's rare and refreshing. The longest story in the collection, "The Ideal Love", is a story of friends becoming lovers with a series of little twists that add up to something original and fun; indeed, the same could be said for "How to be Happy", which, like "The Ideal Love", plays on the theme of the insecurities arising when a relationship shifts gears unexpectedly. "Direction of a Smile" deals sensitively with the psychological effects of rape without becoming dark or depressing, while "Mix" (another friends-become-lovers story) is so quirky in its main character's approach to dealing with his new relationship that it may just be the best story in the collection. "Friendship Formula" is cute, if a little slight, and the volume is capped off with a sweet little extra that follows the characters from "The Color of Love".
Although some of the stories are better than others, there are no bad stories in The Color of Love, and the art is light, airy, and easy on the eye throughout, with the main characters being especially attractive and expressive. As is usually the case with debut collections, there is a significant increase in slickness and distinctness of style with the later stories, and while I can recommend the volume on its own merits, it's especially interesting as a taster from a promising new talent. I can't wait to see what Kiyo Ueda does next.