Junjou is a Japanese word that can be hard to translate; in some contexts it means "unsophisticated" or "naive", as with Tenzen Momoko's Unsophisticated and Rude (originally Junjou to Furachi). In other contexts it can mean "pure of heart", and thus Hyouta Fujiyama's Junjou is translated as Pure Heart.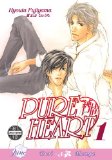 By Hyouta Fujiyama
Publisher: Digital Manga Publishing/Juné Manga
Genre: BL/Yaoi
Age Rating: M/Mature/18+
ISBN: 9781569700273
Price: $12.95
The pure-hearted one in the story can only be Tozaki. As an adult, Tozaki meets by chance with Kurata, who was the first boy he ever fell in love with. It's been years since high school and at first Kurata doesn't even recognise him, but when he does, he remembers Tozaki watching him from the windows of the school library. To Tozaki's surprise, Kurata suggests they have sex. Tozaki agrees, assuming it's a one-off; but one time becomes two, which becomes a habit. Tozaki isn't sure what Kurata wants, and neither is Kurata. Kurata is anything but pure-hearted; his thoughts and feelings are muddled and confused, and the appearance of not one but two rivals for Tozaki's affections does nothing to clear matters up.
Pure Heart displays Fujiyama's great strengths: immediately believable characters, organic story development, clear and subtly observed body language, realistic attitudes. Unfortunately, it's marred by the appearance of two of my least favourite BL clichés: Rape Equals Passion and Everyone Is In Love With The Uke For No Adequately Explained Reason. I didn't blink at the introduction of Tozaki's ex; in fact, I welcomed his presence as proof that Tozaki hadn't been pining hopelessly for Kurata ever since that one semester when they were at the same high school (another cliché I could do without). And given that they were once together, it's not implausible that the ex might still harbour feelings for Tozaki. But introducing Yoshioka, a client and former college friend who is also in love with Tozaki, just feels like adding one egg too many to a cake that is already rich.
The treatment of rape as evidence of Kurata's passion is even more dismaying; it is not even called by that name (though Tozaki does mutter "He didn't have to force me!", which comes close), but that's clearly what it is, and not only is it passed over as a relatively insignificant incident, cause for nothing more than mild awkwardness and an embarrassed apology, it's clearly used to signal that Kurata is actually more serious about Tozaki than he's willing to admit.
For this reason I can't enjoy or admire Pure Heart as much as Fujiyama's other works, even her less mature works such as Ordinary Crush or Lover's Flat. The hallmarks of Fujiyama's work are both her attractive and fluid drawing style and her low-key, realistic approach to characterisation and plot; but the latter is badly undermined by the use of date rape as a signifier for love, and undermined further by the proliferation of rivals for Kurata.
But with all of that said, a bad Hyouta Fujiyama manga is still better than most BL manga on the market. I can't recommend Pure Heart unreservedly, but if you're willing to filter out the consent issues and aren't bothered by the cliché of the universally-desired uke, it's a very good book.