A fresh and delightful collection, flawed but still worth reading.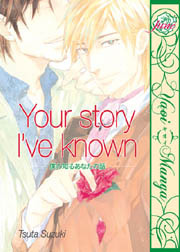 By Tsuta Suzuki
Publisher: DMP/Juné
Age rating: YA/Young adult/16+
Genre: BL/yaoi
Price: $12.95
It's been interesting to follow the development of BL manga over the past ten to fifteen years — or, at least, the development of that tiny proportion of it that makes it into translation. Because of the delays between original publication and a work being licensed, it isn't always obvious which works were published when, which can make it a little hard to discern trends and styles. Nonetheless, in recent years it's been possible for me to pick out trends in storytelling and visual style that depart from previous standards — welcome trends, as far as I'm concerned. Stories are becoming more mature, more grounded, more realistic; visual styles are becoming more detailed, more sensual, more focused on line and solid blacks, with less use of tones and more use of negative space, giving each page a more open feel. Tsuta Suzuki's collection Your Story I've Known exemplifies these trends, so that I found it very welcome indeed, despite its sometimes frustrating flaws.
The title story is a three-parter about Shibuzawa, a hard-bitten yakuza with a soft side he only displays around the young and pretty Hart, whom he encounters when he's briefly dating Hart's mother. He persuades her to let Hart go on to high school instead of qutting and going to work, and years later Hart shows up at his door, grateful and smitten. Shibuzawa resists his advances, partly because he's not comfortable combining a gay relationship with being a yakuza, but also because Hart is like a puppy: affectionate, but kind of needy, and Shibuzawa's not sure he can be what Hart needs. The development of their relationship is very interesting; Suzuki takes it in some unexpected directions, without ever going for an obvious swerve, or the reversal of a cliché that is itself a cliché.
The other stories in the collection are likewise fresh and unusual: "Sauteed Onion" is a quirky little high school romance, "As Long As You Can Hear Me" pairs a high schooler with a ghostly samurai with great results, and "Without The Gods Seeing" creates a delightful atmosphere and a strong emotional effect with its incredibly clueless and shy main character.
I love what Suzuki does with her characters and stories, and I really adore her drawing style, but I have to admit the stories in this collection are sometimes hard to follow, with dialogue and captions adding up to something confusing and incomplete that I have to read several times to understand. I can't tell whether this is a problem on the writer's end or the translator's, or both, but regardless of who's at fault, it marred my enjoyment of what was otherwise an excellent collection.