I didn't think I'd ever have to see him again. I hate you, Himeko.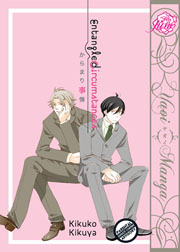 By Kikuko Kikuya
Publisher: DMP/Juné
Age Rating: M/Mature/18+<
Genre: BL/yaoi
Price: $12.95
Sometimes when you try to run away from an embarrassing situation, the situation follows you to the place you thought was safe. This is the case for Shibui, the slightly jittery main character of Entangled Circumstances. One of his co-workers, Himeko, is a dapper, handsome, charming guy, a former kouhai of Shibui's from university, who clearly wants to be Shibui's friend despite Shibui pulling away whenever he gets close. They used to be good friends, but then something happened — something Shibui would rather not think about. That is, until Himeko takes care of him after a night of heavy drinking with the boss, and Shibui reflects on their university days: how Himeko set up all their friends with girls, but never Shibui, and arranged matters so that he'd have no competition for Shibui's attention. That's suspicious enough, but then comes the night when Himeko kisses Shibui while he thinks he's sleeping… Shibui confronts Himeko, and Himeko confesses his love, but Shibui doesn't believe him and runs away. And that was that for their friendship, until Himeko showed up as an employee in the same firm, showing no sign of having changed…
Romance is all about obstacles. Every romantic story hinges on a "but": they love each other but -- their families are enemies; or one of them is engaged to someone else; or they're both too shy to say anything. There are external obstacles and internal obstacles, and while the title of Entangled Circumstances might make you think the obstacles are external, they're not. They're all in Shibui's head, and while it's a little frustrating to realise how easily he could have disentangled himself, it is true to life in its own way. Shibui's sheer disbelief that Himeko could be sincerely in love with him does feel convincing, without Shibui being depicted as an irredeemable nervous wreck.
My one quibble with the story is that Himeko comes across as both a bit manipulative and as overly forceful (especially in the extra story, which teeters on the border between "fine" and "creepy"). Even this is only half a complaint, because these traits aren't so pronounced as to make it implausible that Shibui would fall for him, and they make his character more rounded and believable. Still, I had my moments of thinking "is this relationship a good idea?", which is disconcerting. Still, even with that said, Entangled Circumstances is a cute and funny and sweet contemporary romance.