Nobara's drive to get the girls' volleyball team ready to qualify for the next Spring Tournament has tensions running high. Have Nobara's dreams finally outgrown those of her teammates?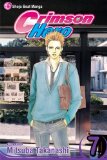 By Mitsuba Takahashi
Publisher: Viz Media – Shojo Beat
Genre: Sports/Romance
Rating: Teen
Price: $8.99
ISBN: 1-4215-1014-6
After having so much time spent on the romance, it's a relief to get back to the sports aspect of this story. Even though I don't care much for the sport, the drama created by it is so much better than the teenage angst from boys and girls sorting out their feelings.
Both volleyball teams at Crimson High are having player problems. Nearly all the 2nd years have quit the boys team, leaving the first years on their own. While the girls, after an emotional fight after losing in the Summer Tournament have decided to get serious about training. Their new coach pushes them hard, but the focus soon falls onto Nobara. She gave up the chance to improve individually to play with her teammates. As a result, she shows no ambition to better herself, even when she makes an impossibly high jump of 9 meters. So, it up to her teammates and the coach to help push Nobara into improving to her potential.
This volume of this Sports/Romance is all about the sports. There's no thinking wistfully of boys or worrying about who's in love with who. No, it's all about the volleyball and what it takes to be winners. And what this volume shows is that it takes teamwork. The two-story lines with the boys and girls teams are shown as complete opposites. The boys team is torn apart by their inability to pull together and work for the goal of the Spring Tournament. The second years let their pride win out, and couldn't take being benched in favor of the first years. As a result the team is splintered. On the other hand, Nobara, who is given the chance to train with the best players from teams all over Japan, chooses to leave to be with her teammates. With her return, their resolve to really work as team is strengthened. But, it's also because they've become a team, that they can push Nobara to realize that she has a potential she needs to work for. Because they care for her and for the team, they can push her out, so she realizes what she needs to do.
While sports manga isn't my favorite genre, Crimson Hero is a compelling enough story for me to stop seeing the sport aspect, and to really enjoy the drama. There is some great character development seen throughout this volume with the girls. They have really grown over the last six months, taking steps they probably never saw themselves doing. And the character we see being built with the girls is exactly the kind of character that sports should build; teamwork, respect, and a drive to better oneself.
Review copy provided by Publisher