Things start heating up with a holiday visit to the sunny beachside! Sachie catches the eye of handsome Azuma Inui, sparking a rivalry between Azuma and Rakuto. Will a little competition force Rakuto to reveal his feelings for Sachie?
Wild Ones Volume 2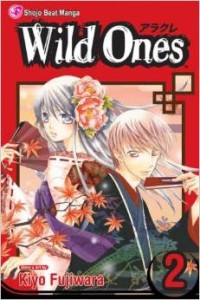 By Kiyo Fujiwara
Publisher: Viz Media
Genre: Comedy/Romance
Age Rating: Teen
Price: $8.99
Moving away from the Yakuza comedy that made up so much of volume 1, volume 2 is more about the typical shojo conventions seen in every series; at the beach, at the school camp, the school festival, and the most conventional of all, the romantic rival. While these conventions can make the story more generic, the characters are still interesting enough to keep it from being pulled down to complete mediocrity.
The volume starts off with a trip to the beach to visit with an old friend of Raizo. Sachie of course has to cause a scene when she sees someone wasting food. Then we meet Azuma, who's obviously attracted to Sachie, and who conveniently is the grandson of Raizo's friend. Rakuto and Azuma immediately butt heads, so of course Azuma has to come back with them to live while his grandfather is in the hospital. The problem with trying to set Azuma up as a romantic rival to Rakuto is that Sachie doesn't seem to feel any kind of attraction to him. He's more of a friend that she can commiserate with over Rakuto, and seems to try to get Sachie's attention more to annoy Rakuto than really feel anything toward her. His presence does seem to force Rakuto to be more upfront about his feelings for Sachie, but I think most of the scenes could have occurred even without Azuma's "threat" of competition.
The volume finishes off with not one, but two clichés; the school festival and Sachie, Rakuto and Azuma getting outed as Yakuza. I guess it's good to get these out of the way early. Both are inevitable in the title like this, and there's no guarantee that they outing won't come up again. Rakuto's quick thinking gets them out of it, and his non-denial denial lays everyone's fears to rest. It seems the only reason to have even done this was to have Sachie proclaim her feelings for her new family. It really didn't feel necessary.
Despite these clichés, the budding romance between Sachie and Rakuto makes up for them. Rakuto is starting to become more forthcoming with his feelings. At the beach, he helps to fulfill a wish of Sachie's to do Suikawari, a beach game of breaking a watermelon open with a stick. Afterwards, he tells her he wants to be the only one by her side, and not just to protect her. Then at the camp, he shows her a field with a beautiful view of the night sky. These scenes really make Sachie start to believe that there could be something more between them, but then Rakuto does things to make Sachie think twice, as any teenage boy would. It's this teeter-tottering of their relationship that keeps the series interesting, because the situations are realistic and not contrived. It's a "two-steps forward, one step back" kind of relationship, but it is going forward slowly.
If you're looking for something new from Wild Ones, keep looking. But if you like a good, slow build up of a relationship, then this title does have some good things to offer. The characters remain interesting, and the art is still solid, if a little bland. But that's part of the charm. Like its main character, it's simple and straightforward, a breath of fresh air with some of the shojo titles out there. Wild Ones keeps on entertaining despite having to resort to some shojo conventions.