Sanshiro's chances of having an adventure are slim to none in his tiny island hometown, until the day a mysterious stranger invites him to play a game… Without warning, Sanshiro is taken to a backwards universe to play BakeGyamon-a game pitting monsters against monsters.  Along the way he meets other players who have a particular reason for being there-to obtain the wish that is granted to the winner.  But how far can Sanshiro get when the monsters he's been paired with are a bunch of little mud balls?!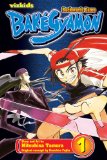 By Mitsuhisa Tamura
Publisher: Viz Media – Viz Kids
Age Rating: All Ages
Genre: Game
Price: $7.99
In the great tradition of shonen protagonists, Sanshiro is over enthusiastic but not too bright.  He craves to be just like his father and go on adventures all over the world.  So, when he's invited to play in the BakeGyamon, he accepts without really knowing what it is.  Just as long as he can have an adventure, that's all that matters.  His enthusiasm annoys some people at first, even Fue, the one that invited him to the game.  But it's this same enthusiasm that gets him through the games and makes him endearing to the other players and the reader.
I really enjoyed this first volume of BakeGyamon.  It takes the best of Pokemon and Yu Gi Oh! and marries them into a fun story.  It takes traditional Japanese games that kids would know and turns them upside down, very similar to Yu Gi Oh! Shadow Games.  The monsters that are to help the players come from a seal called a Genki Fu and are summoned through a gameboy like device.  The monsters come in all shapes and sizes, much like Pokemon.
What makes this title different and a joy to read is Sanshiro.  His reason for joining the game is different from everyone else's.  All the other players are serious and focused.  They are there to win and get their wish.  Sanshiro is just there to have fun.  No one believes he can succeed with such an irreverent and gung-ho attitude, but it's exactly because he isn't so fixated on winning that he can find the solutions make it to the end.  He's not out to prove something like Ash, or trying to stop some bad guys like Yugi.  He's just having fun, and his attitude is infectious, to both the other players and the reader.
The games that are played also have interesting spins put on them.  Since this is all happening in Backwards Japan, they are played in the opposite to how they would normally be played.  In Ogre Tag, the players must tag the Ogre's horn.  In Shadow Stepping, instead of the person who's "it" stepping on the other player's shadows, they must use "its" shadows to get the end.  The games are just as much puzzles as figuring out the solution is important as playing and winning.
BakeGyamon is a fun title that both boys and girls can enjoy.  Adults that enjoy game stories will also find a lot to like.  The art is pretty standard for a shonen title, but not at all bad.  This volume is a very strong start for the series.  It's not a ground breaking or original title, but it is a lot of fun to read, and with books, that what really matters.
Review copy provided by publisher.