Every week, Viz Media and the New York Times posts the top ten bestselling books. For Viz Media, it is the bestsellers on their site, Vizmanga.com. The New York Times gets their numbers of print sales from retailers. Offered here is a listing of these books with their status this week compared with the previous week, and some way-off analysis of the activity.
Vizmanga.com for the week of August 19, 2014.
New digital releases wipe nearly all the new print titles out from last week. Only Bleach and Naruto survived, and they only just barely scrapped by, taking the last two spots. All the rest of the list are either digital only or digital firsts. I really wish I knew how JoJo's Bizarre Adventure kept doing the double taps. Are all JoJo fans in sync with each other psychically? Lucky Star is a new digital only rescue from Bandai. It's a four panel series about four girls and their more otaku ways. I had a hard time getting through the first volume. Actually, I never did. I found it really boring. But, your mileage may vary.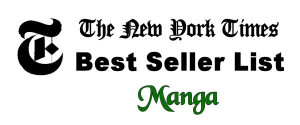 New York Times Bestseller List for the week ending August 23, 2014.
No big surprise with what's on top. Seven Seas entertainment's Monster Musume takes it with ever new volume. And can sometimes even hold on to it for while. But with the debut of a new Attack on Titan title, Before the Fall vol. 2, it may not be able to hold it for long. At least it's not alone, with Dragonar Academy holding over from last week. Viz Media kept some of their titles on the list, but not the ones you'd expect. Bleach got booted completely, but Food Wars! Deadman Wonderland, and surprisingly, Rosario+Vampire Season II held on. Kodansha holds the most titles as usual, four of them being Titan titles.  We'll see if the Titans can keep holding on, with this week being a big week for Viz Media and their shonen and shojo titles.
Legend:
∗ = New Release
↑ = Title moved up specified # of spots
↓ = Title moved down specified # of spots
↔ = Title didn't moved from previous week
↵ = Title returned after dropping off list