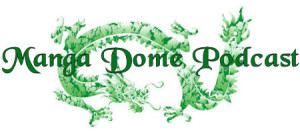 Here you will find links to all my episodes of the Manga Dome Podcast. All links refer back to Youtube.
Episode 1: The First
Epsiode 2; Knights of Sidonia volume 1
Episode 3: Manga Movable Feast: Kaori Yuki
Episode 4: All News, All the Time
Episode 5: 13th Boy
Episode 6: Japan Sinks
Episode 7: Spice and Wolf
Episode 8: Jmanga: A Final Farewell
Episode 9: Mobile Suit Gundam: The Origin Volume 1
Episode 10: From the Bottom of the Pile
Episode 11: Manga Movable Feast: Skip Beat Volume 1-11
Episode 12: Umineko: When They Cry: Episode 1 Legend of the Golden Witch
Episode 13: Too Many Alices!
Episode 14: Manga at Anime Expo
Episode 15: Bleach It Out
Episode 16: Manga at SDCC 2013
Episode 17: Endings and Beginnings
Episode 18: Sparkler Magazine
Episode 19: Manga at Otakon
Episode 20: Not Feeling the Magica
Episode 21: Manga at Japan Expo
Episode 22: Alice in the Country of Hearts
Episode 23: Real and Unreal
Episode 24: Comfort Manga
Episode 25: Cross Manage
Episode 26: High School of the Dead
Have any questions or comments about the podcast? Leave me some feedback!