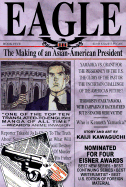 Eagle: The Making Of An American President Volume 5

By Kaiji Kawaguchi
Publisher: Viz Media
Genre: Political Drama
Age Rating: Older Teen (16+)
Price: $22.95
Rating:





The final volume of this series starts out with Yamaoka and his team trying to find a way to turn the leaders of the World Machinists and Aerospace Union into his supporters. The President of the Union, Michael Kozlov, has a chip on his shoulder about Yamaoka, and any other immigrant who had it "easy", and is determined to back the Republican Grant. By playing Kozlov against the Union Secretary Zamal, both men break the other with secrets they had been keeping, and in the end, Yamaoka is able to win another supporter in Kozlov and in turn, the Union. Then, the series finally turns to the great white elephant in the room. Racism. With Yamaoka winning so much support, the question starts to turn if a non-white can really become president. All the kooks come out, such as neo-nazis, rallying against Yamaoka, and violence breaks out in the south, which culminates in not one, but two assassination attempts on Yamaoka, neither of which succeed, and ends with Yamaoka winning more widespread support.
Continue reading Eagle: The 2008 Election Edition Volume 5 →