Five and a half years ago, Viz put out a sampler at the San Diego Comic Con for a new manga anthology; Shonen Jump. Anchored by Dragonball Z and Yu-Gi-Oh!, Shonen Jump introduced us to new titles such as Naruto, Shaman King and One Piece at only $20 for 12 issues. Ah…those were the days.
The December Issue featured some important milestones. Besides heralding in the 5th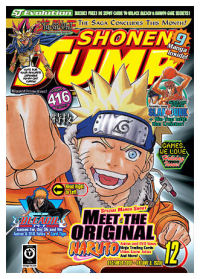 year of the magazine, it had the first Naruto story Masashi Kishimoto wrote. This Naruto and his world was very different from the one we know now. A "Proto-Naruto" is you will. Instead of being a ninja-in-training with the spirit of the 9-Tails Fox Spirit in him, Naruto is the son of the 9-Tails Fox. He has been raised by the last living warrior that fought his father, who is also a Yokai. Naruto has not been able to make any human friends, as he has been a mean-spirited trickster to them. The warrior sends Naruto from the mountain temple where they have been living, and tells him he can not return until he has made a human friend and brings him back to the mountain. The rest of the story is following Naruto as he makes his first journey into the outside world, one that is like ours in many ways.
I really enjoyed this story, and this version of Naruto. While I do like the Naruto he became, the 9-Tails fox Naruto was a lot of fun too. The two are very similar, except that the proto-Naruto didn't have the stigma Naruto has. He bears no grudge, and has nothing to prove to anyone. It seemed if the story had continued it would have been about Proto-Naruto's journey of discovery as he meets new people, makes friends, and presumably fight some foes. I really like stories like Dragonball by Akira Toriyama and O-Parts Hunter by Seishi Kishimoto (Masashi's twin brother), which have the same premise. I would have enjoyed following the Proto-Naruto's adventures. I'm glad Viz gave us this glance into Naruto's past.
The other big feature in this issue was the final chapter of Yu-Gi-Oh!. While not completely serialized in the magazine, (the entire Duelist storyline was published in graphic novels only), it did run uninterrupted for the 5 years to end here. When Yu-Gi-Oh! was announced for the magazine, I immediately wrote it off. I'd only seen and heard about the Duelist storyline which is the one that animated. Imagine my surprise when I actually started reading it, and found the first arc to be really good! The stories and use of situations to come up with Shadow Games was really entertaining. I will gladly recommend the first 7 volumes of this series.
Admittedly, I wasn't too happy with the sudden jump to Millenium World, but enough was explained about Duelists' end that I could still follow along. Millenium World was also good, as it was spent mostly in the Ancient Egypt of "Other Yugi"'s memory. The final battle of the series pits Yugi against "Other Yugi", the pharaoh Atem. The Endgame would decide the fate of the Pharoah's soul; to remain in the real world, or move on to the next. It was hard to chose who to root for in this story. I didn't want Atem to leave. I liked him better than Yugi. I wanted him to remain undefeated. But at the same time, I wanted to see Atem move on as he should to the next world. It was a satisfying ending anyway. When it's not only about the Duel Monsters game, Yu-Gi-Oh was a good story with a compelling plot and interesting characters. It's worth the time to read it.
Other notes; The preview of Slam Dunk was nice, but I think I'm passing on this one. In Hikaru no Go, the pro test is finally over. The nail biting tension that the writer created was intense. It was an excellent read. This series is another must read. Bleach's second full issue gives us some background on Ichigo's dad, and where Ichigo's powers may have come from. I'm still not happy with it being moved to serialization… In One Piece, Luffy and the others are still on Drum Island, but that arc seems to be wrapping up. Yu Yu Hakusho has felt very tired to me lately. After the long fight tournament, it's time to jump right into another fight. Fighting manga's not my favorite. Yu Yu Hakusho has become a prine example of why. With Yu Gi Oh gone, we are left with GX. This series hasn't done anything to endear itself to me. But it's still better than Bobobo-bo-bobo. I don't even want to think about that…
All in all, the December issue of Shonen Jump was a good one for not only the stories, but the milestones that it hit. Here's hoping for another 5 years.