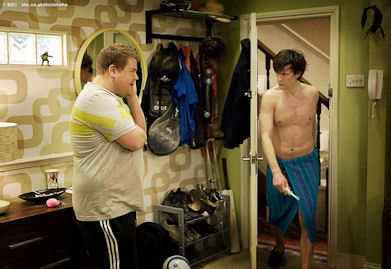 Every series there is an episode where either the Doctor or companion isn't featured much because they are needed for filming elsewhere. Multiple episodes are filmed at the same time and this usually happens near the end of the series. This 11th episode, "The Lodger" seems to be this series' Doctor heavy/Amy light episode. The Doctor gets tossed from the TARDIS, leaving Amy alone to try to fly it while the Doctor tries to figure out what on Earth (literally) is keeping the TARDIS materializing fully. Meanwhile, ordinary human Craig Owens is trying to tell his female friend, not girlfriend yet, how he feels about her so they can reach that next step. He's got an ugly stain on his ceiling from the flat upstairs and is looking for a roommate. While the neighbor upstairs keeps luring passersby up to never be seen again, the Doctor comes knocking to be Owens' new roomie.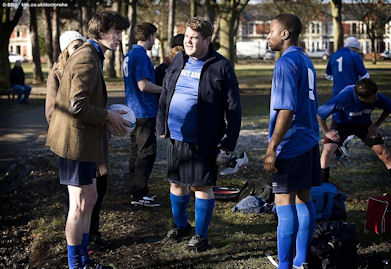 This episode is basically just fluff, but it's good fluff. It was originally a comic story written for Doctor Who Monthly, that was reworked to be a TV episode. The Doctor figures he can find and solve the problem, as long as he can pretend to be human. His first real test comes fast. Craig's pub's football (soccer) team is down a player, and they need someone to stand in. The Doctor volunteers immediately, as playing football is one of the things Amy told him human guys do. While first feigning knowledge the game, he turns out to be a great player. This isn't just acting on Matt Smith's part. He is actually an excellent football player, and was nearly scouted when he was younger. It was really cool of the writers to work this skill of Smith's in, and it worked out so well in the episode. Watching Smith play and really enjoy the himself doing it really made a difference in the enjoyment of the episode.   You were almost cheering the Doctor on, and laughing as she stole Craig's kick, as he was having so much fun.
Another really funny moment is when Craig discovers the scanner the Doctor has built-in his room. When he goes to confront him, Craig finds the Doctor talking to a cat. He shares a psychic connection with the cat, because, like bow ties, cats are cool. When Craig then tries to kick the Doctor out, the only way he can think to do to explain is to psychically reveal the truth to Craig. With a head butt. That whole scene was just TOO FUNNY. It's so worth watching the episode just for that scene!
This episode also shows the Doctor playing matchmaker. He seems to enjoy this, meddling in other people's lives, but then, meddling is what he does best. While still working on what is keeping the TARDIS from materializing, he definitely meddles in Craig's life. He tells Craig's "friend" Sophie that she can do anything. He does Craig's job better than him. He just generally drives Craig nuts! But in the end, he gets both Craig and Sophie to finally express their feelings, which also helps with stopping the problem. I really enjoy these moments of happiness when they come up. It's one of my few "chick" vices.
Overall, this was a really fun episode, and good pick-me-up after the slightly depressing "Vincent and the Doctor". It also starts the set up for the final two episodes of the series. The crack does make an appearance. But of much greater significance, Amy finds her engagement ring from Rory in the Doctor's jacket pocket, while searching for a pen. You can almost see the wheels of memory turning in her head as she stares at it. She knows it should mean something. The big question is, will she remember?
Images © BBC