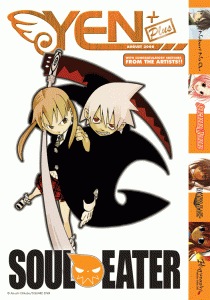 Yen Plus
Publisher: Yen Press
Age Rating: Older Teen
Genre: Anthology
Price: $8.99
I was excited to hear last year at the Yen Press inaugural panel as SDCC that they would be publishing an anthology.  I really like by Shonen Jump and Shojo Beat, as they give me an opportunity to sample lots of different manga at an affordable price.  At that panel, Kurt Hassler promised the anthology would be ready by the next SDCC.  And, low and behold, it was there, Friday, for free!  Needless to say, as soon as we got back to the hotel, and for the rest of the weekend, I read it.
First, a few general observations about the anthology.  It's big.  If you combined one issue of Shonen Jump and Shojo Beat, you would get the approx. size.  And it's almost all manga.  There aren't a lot of filler articles (that I tend to ignore in the other anthologies anyway).  There are ads, but they are well done, and put mostly on the OEL/Korean Manhwa side of the anthology.  They are mostly for other Yen Press titles, with a few others thrown in (Dark Horse, Right Stuf etc.).  This anthology also reads from both sides.  The left-to-right side features OEL titles and Korean Manhwa.  About half way through the anthology is a divider page, that tells you to flip the anthology.  On the other side are the Japanese titles in their right-to-left direction.  Tokyopop did this for a while with the manga magazine before they reduced it to just a shadow of it's former self.
Continue reading Review: Yen Plus Volume 1 Issue 1 Japanese Manga →