At New York Comic Con which occurred recently, Vertical, Inc. announced some new licenses, as well as a new imprint. Continuing with the roots of the company they announced two light novels, based on the wildly popular Attack on Titan property; Attack on Titan Before the Fall: Kyklo Arc and Attack on Titan: Harsh Mistress of the City.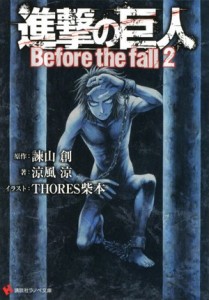 Attack on Titan Before the Fall: Kyklo Arc makes up the last two light novels of the Before the Fall series. Vertical has already published the first novel, which follows talented smith Angel Aaltonen as he develops the maneuvering gear for the Survey Corps. The new license is for story that follows Kyklo, the "son of a Titan." This second part takes place at around the same time as the first volume and follows Kyklo, a boy who was in the womb when his mother eaten by a Titan and survived, and became dubbed "Son of a Titan." Kodansha Comics is releasing the manga based on the novel. Vertical will release the Kyklo Arc as one 2-in-1 omnibus. It will be available next summer. I'm currently reading the first volume and have liked it so far. Even with Kodansha releasing the manga, I may still read the light novels of Kyklo.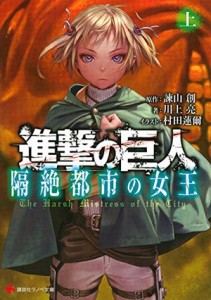 Attack on Titan: Harsh Mistress of the City takes place just after the beginning of the Attack on Titan manga. After Wall Maria was breached, Titans began streaming in, reaching even far off Quinta District. The story follows Mathias and his allies and Rita, a soldier in the brigade of occupying troops. Rita wants to protect the town which has fallen into chaos with the appearance of the Titans, but due to forceful tactics used by the brigade, the town becomes afraid. Mathias must use whatever he can to meet up with Rita, including the "helping hands" of a band of thieves. This single volume will be available in the Fall of next year. This time period in Attack on Titan has not been explored much, so it will be interesting to see what happened to some of the areas affected by the fall of Wall Maria.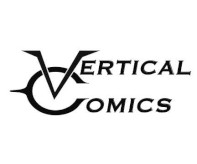 While not announced at NYCC, Publisher's Weekly made the exclusive announcement during the con that Vertical was creating a new imprint for the company. Vertical Comics will be the place for all Vertical manga and anime-related titles. With this new imprint, Vertical will be expanding its manga offerings to 20 volumes this year, including 7 new properties. Eventually, the line will expand to 30-40 titles a year. Vertical decided to start this imprint to keep the manga separate from their core business of publishing Japanese prose novels. I think this is a great move by  Vertical, especially the expansion. They always pick up unusual and gripping titles that many other publishers won't touch. While I'm not always comfortable reading some of their titles, I've never regretted reading one.