With the holidays rushing towards us (I saw Christmas trees at K-mart across from the Halloween costumes!!), retailers are pushing out their announcements for the coming shopping season.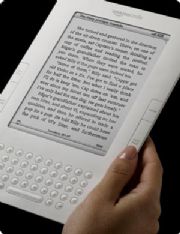 Amazon started with the announcement that they would be adding a lending feature to the Kindle. Kindle owners will now be able to lend their books out to other Kindle owners for a two-week period. During that time, the book will not be available to the original purchaser, and the book can only be to one person at a time, one time only. Not all books will have this feature enabled as it's up to the publisher to enable it, just like the audio feature on the Kindle. Of course, the Kindle is only playing catch-up by adding this feature. The Barnes and Noble Nook has had it from day one. But with the e-reader market getting more competitive, the Kindle will have to do everything possible to keep itself at the top.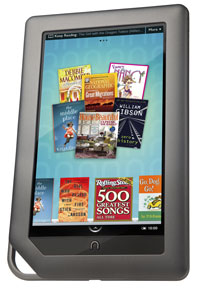 Especially with announcements like the Nook Color. Earlier this week, Barnes and Noble announced they would be releasing a reader tablet for the holidays. It has a full color, android-based touch screen e-reader. It's 8.1 inches tall with a 7 inch touch screen, 8GB storage with a micro SD slot expanding it to 32GB, built-in WiFi and a promised 8 hours of battery time. It will also include a full web browser, free word and chess games, Pandora music streamed over WiFi and Quick Office to create, edit, and view Microsoft Office documents. It will retail at $249.00
Barnes & Noble will also release Nook Developer, which will allow developers to create android apps for the Nook Color. They are asking for apps that are "reader-centric" and have "engaging content". Apps will start to become available next year. The Nook Color will also feature in store exclusives, and has some kid-friendly features that includes expanding text, zooming pictures and the device can read the story out loud.
Of the two announcements, the Nook Color is definitely the more exciting. It expands the e-reader into a more versatile device without losing sight of what its primary purpose is; to read e-books. The Nook Color fills a gap people have been feeling since the iPad came out. This device could be the bridge that a lot of people are looking for, that don't want a big, unwieldy device that comes with a lot of baggage like the iPad, but is more than just a scaled down computer like a netbook or limited like the current generation e-readers. Of course, nothing's for sure until it's in the wild, but, if I were to put my money on an e-reader device right now, I would go with the Nook Color. It has the greatest potential. I hope publishers, especially manga publishers will see that potential too.