I've never understood the whole Boys Love phenomenon. I'm not a shipper, so I don't see the appeal of putting two characters together, let allow two characters of the same-sex. But to be honest, I've never read any BL either. I'm not someone who goes out of their comfort zone easily, and I was going to skip this month's Manga Movable Feast. But then I remembered I had one volume of BL I had received as a review copy back from when Aurora was still around. I had kept it to try, and then it got buried in a box of half read/half unread manga. So I pulled it and decided to read it.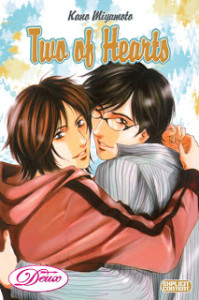 Two of Hearts is by Kano Miyamoto. It is one volume long and comes from Aurora's Deux imprint. It is about Haruya Ito, a writer for an arts magazine who writes articles month to month, but doesn't seem to have any ambition beyond that. One day, he meets a troubled teenager, Maki Hidaka on the beach near his home. Maki has issues; he's a germaphobe, OCD about washing his hands, hates to be touched and is malnourished as his mother is an alcoholic and doesn't provide meals or enough money for Maki to get his own. Haruya becomes interested in Maki, both professionally and personally. He has become a sort of muse for Haruya and he starts working on a novel. His partner and editor, Yasigawa, doesn't care for the attention Haruya gives Maki which leads to some melodrama, but it's too late. Haruya has chosen Maki, which Yasigawa finally accepts. The story ends happily with Maki turning his life around, and Haruya being able to write again.
At its most basic level, this is the story of two lost and broken people finding and healing each other. The gender of the characters aren't really important. It would work just as well with a man and woman, or two women, because the basic relationships are the same. I didn't have a problem with the story. It's actually a kind of story I enjoy. But I can't say I enjoyed this one. The problem for me was the characters. I really couldn't connect with any of them. It's not that they were badly written. On the contrary, the characters were portrayed very realistically. However, they felt very dull to me. For me to really enjoy a story, I like to feel some kind of connection to at least one character, but I really felt nothing for any of them. They were exactly as they appeared on the page; flat characters that didn't speak to me. If they looked more in the  story as they did on the cover, I might have liked it more.
Now, this could just be this individual story. Maybe this one wasn't the one for me. Maybe it didn't have the right hook. But I have to be honest, I just don't get it. I don't see what's so great about putting two guys together in bed. The descriptions on some many of the BL books I see usually has one character dominating and forcing himself on the other. This kind of thing is usually decried when it's a heterosexual couple. What makes it better when it's a homosexual couple?
I can now truthfully say I've tried BL, but it just isn't my bag. I'm going to stick to my shojo and josei manga for my relationship drama. The closest I think I will ever get to BL is shonen-ai, with stories like Godchild by Kaori Yuki, where the relationship is implied and can be read either as BL, or bromance by the reader. I'm happier that way.
If you want to take home this manga, leave a comment on the post and I will pick one at random to win it. MUST BE 18 OR OLDER.