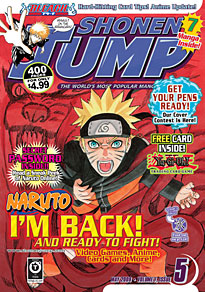 I was reading the latest issue of Shonen Jump (May 2009), and though I may despise it, I do read Bobobo-Bo Bo-Bobo.  Don't ask me why, it's there, so I just do.  So, I'm coming to the end of the chapter, and at the bottom is says next issue will be Bobobo's final chapter in the magazine.  Hurray!
Finally Bobobo is leaving!  There is really nothing funny about this manga.  It's the embodiment of "Stupid is as stupid does."  But then real question here is, what's going to replace it?  There hasn't been any announcements (that I'm aware of) of any new titles going in.  Tegami Bachi was just added, and nowhere in the issue is there any indication of what will be replacing it.  Will they try to squeeze in another manga that will get only one chapter a month (like Yu-Gi-Oh! GX), or will this space just be filled with more Naruto?
In order to keep pace with the Japanese releases of the manga, Viz will have to up the chapter count in Shonen Jump, or take Naruto out of the magazine and so they don't have to wait.  I don't see the latter happening though.  Naruto is one of SJ's anchor titles.  To take it out of SJ could mean the loss of many, many subscriptions, something I'm sure Viz doesn't want.
Well, at least it won't be too long a wait to find out.  Sometimes falling behind on issues isn't too bad a thing.  I really hope this does turn into an Evolution for SJ.  More Naruto isn't necessarily bad, and if it means no more mass volume releases, then I'm all for it!
UPDATE: Deb Aoki of About Manga helped solve this little mystery for me via twitter.  Apparently at NYCC, it was announced that Ultimo would be joining Shonen Jump in the July 2009 issue.  Scroll down past the Takahashi news.  Somewhere in the back of my mind I seemed to have thought about this, but at 3am, I wasn't going to push it.  Next time I'll just tweet the question.  (Thanks Deb!)
I have to say I'm a little ambivelent about this.  I didn't care too much for the preview of the first chapter.  It just felt…bleh to me.  Maybe it was too much superhero, and not enough manga.  But I'll give it a chance.  I'm gonna read it anyway as long as it's in SJ (see above).  I think I would have preferred more Naruto though.  Those chapters can be so addicting!