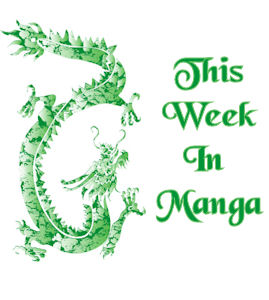 Cons for the Holiday
Two cons ran over the long Memorial Day weekend. Anime North is a Canadian convention, and blogger Lissa Pattillo attended. She has two extensive posts about the con, dealer room, and panels she attended, with a third for the last day possibly on the way. Over on the US west coast was Fanime. Several west coast manga bloggers attended and had a meetup. Deb Aoki has a photo gallery of her three days there. There were no big announcements from either con, but with Anime Expo and San Diego Comic Con coming up in a month, that's understandable. Still check out the posts for what smaller, reasonable cons are like.
Stretching the Manga Buck
I've talked about Bookcloseout.com before several times. It a great site to get remainder books for a decent price. The problem with the site has been that it's mostly only Tokyopop manga that 's been available. Not that I haven't gotten some good titles at great prices, but some variety would be nice. Blogger Tangogant recently discovered another publisher has joined Tokyopop. Yen Press titles, particularly their Korean manhwa titles have appeared on the site. The books are available at 60% off, which puts the books at $3.99. This is a great deal, and is a great chance to catch up on some of Yen Press' older titles.
A Tragic Loss

I came home from work Friday to some sad news. UK manga blogger, Tiamat's Disciple had died. He had been fighting prostate cancer, and finally succum to it Tuesday night. His brother was kind enough to post the news on Tiamat's blog. It's always sad to hear of someone's passing. It's sadder still when you knew the person. I'd had several interesting conversations with Tiamat, including a debate with him on my own blog over library vs parent responsibility, and on Twitter over both anime and manga. I even spoke him on his last night on Twitter, encouraging him to keep with Macross Frontier, and defending it against his preference to Macross 7. Even though he could sometimes be abrasive, and very opinionated, talking with him was never boring, and I will miss him. Brigid Alverson over at the Manga Blog has a remembrance post which includes information about making donations to the CBLDF in his name as a memorial.
NYT Best Seller List
It's mixin' it up again on this week's list. It's starts out as usual, with Twilight holding on to the #1 spot on the hardback list. Over on the manga list, one Del Rey's few continuing titles (or so it seems), Negima! Master Negi Magi vol 26 debuts at #1. Black Butler vol 2 takes a step back one to #2 with Black Bird vol 4 right behind at #3. Naruto vol 47 also holds out at #4, pushing Pandora Hearts vol 2 back to #5, which in turn pushes Black Butler vol 1 back one to #6. Seven Seas makes a surprising appearance with Dance in the Vampire Bund vol 7 at #7, while new CLAMP title Kobato vol 1 rests at #8. Rosario Vampire Season II vol 1 moves up one to #9 and Spice and Wolf manga vol 1 returns to the list at #10.  Yen Press wins the battle for dominance this week, holding 5 of the spots on the list. Viz only hold 3, with two in the top 5. Now to see if Del Rey and Seven Seas can hold spots into next week, with another Naruto volume coming out as well as the last of the One Piece blitz.
Manga to Anime
Kekkaishi on Adult Swim
Cartoon Network and Adult Swim continues it's on-again, off-again relationship with anime by starting to air Kekkaishi, a series based on a manga that is being released by Viz Media. It's a kind of odd series to start showing though. The manga has been coming out from Viz since 2005 and other than with bloggers, it hasn't been a big hit. With the 21st volume coming out this month, will Kekkaishi experience a "Cartoon Network Effect" for earlier volumes? Will anyone be able to find the earlier volumes in bookstores if they wanted?
Bleach on Crunchyroll
Joining older brothers Naruto and One Piece, Bleach will begin to have its latest episodes simulcast on Crunchyroll starting next Tuesday with episode #274. It will be available to premieme subscribers 1 hour after airing in Japan in HD, and a week later in SD for free. It will also be available, not just in the US, but in Central and South America, as well as several European countries. Anime companies must feel that simulcasting is doing something for them as they continue to add titles. Are more people watching them than the fan subs? Does giving the fans what they want actually work?
Manga to Live Action
K-drama of Itazuka no Kiss
Itazuka no Kiss, a shojo manga from the 1990's is getting the live action drama treatment in Korea, to be aired in the Fall of this year. This manga has a sad history to it, as it was never finished because the manga-ka died in an accident. The manga has been made into a live action series twice, once in Japan, and in Taiwan, and it was animated in 2008. The Korean production will be done by the same people as the adaptation of Boys Over Flowers, so there's at least some experience with adapting manga. Digital Manga Publishing is currently releasing the manga in the US in an omnibus format, and just released the second volume this month. We really need more K-Dramas/J-Dramas to come out here. They are shorter and have been infinitely more entertaining than US TV lately.
Manga For Your Ears
Manga Out Loud
This Week at Manga Village
What I'm reading
Itazuka no Kiss vol 1
Color of Earth