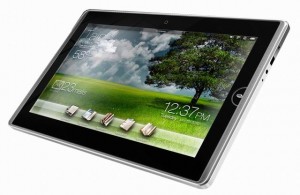 The first shot in the tablet wars began with Apple's release of the iPad, and technology companies have responded. At Computex, a computer and technology show several companies were showing off new devices, some to be available as early as this Fall.
The big announcement that everyone is touting is from the creator of the netbook, Asus. They announced three tablets.  The Eee Pad will come in two versions. The EP101TC will come with a 10 in screen and the EP121TC will have a 12 in screen. Both devices will be able to playback multimedia, read e-books, browse the web, and with a keyboard can be used as a computer. Asus is promising 10 hours of battery life with these devices. Exact specs or release date haven't been announced yet.
The Eee Tablet is the Asus e-reader. It uses a reflective LCD screen instead of e-ink, and is in grey scale instead of color. It will include a touch screen and style for note taking. It uses Wacom's pen input technology for more precise and accurate notes. Asus is aiming this device at students. It will include a webcam, microSD slot and USB slot. It will also have a 10 hour battery life and will be available in the Fall.
MSI is determined to not be left out, and has announced its own tablet, the WindPad 110. This is a 10 in with multimedia in mind. It will have a webcam and HDMI support, as well as USB slots. MSI will have its own UI over Windows 7. No word on battery life or release date.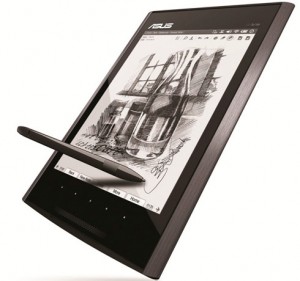 Also announced this week, but not at Computex is that Amazon will be releasing a slimmer version of the Kindle, with sharper images and faster page turns, supposedly in response to the iPad. But without a touch screen or color, this seems kind of pointless. The Kindle and iPad are for two different markets. Kindle is for e-reading exclusively, while the iPad is a multimedia device. Amazon is just throwing away money trying to compete with that. But they are doing something right by getting the Kindle into a retail store. Starting on Sunday, Target stores nationwide will be selling the Kindle after a trial program.
And it seems publishers aren't too thrilled with the Apple/Amazon battle. Both companies want to hold a monopoly on e-books by making them available in formats that only their readers can read. Publishers are coming out and saying they don't want proprietary formats for their e-books. They want one standard across all platforms. I'm happy to hear this from publishers. Books have always been open and available to everyone. They should remain this way in the digital age as well, not trapped in Apple and Amazon's walled worlds. Though I do wish they would stop worrying about DRM. Pirates will get around it no matter what they do. Just worry about getting them to people in an easy and legal way, and the pirates won't be an issue.