I guess Viz has faith in their chapter books line. In the Naruto line, they already have 4 books out with more scheduled for release. And honestly, as reading material for young ages 5-8, the books haven't been bad. They have stayed true to the manga, adding embellishments that are appropriate for young ages and uses panels from the manga for illustrations. I know this probably irks older readers who don't like to see their favorite stories "dumbed down", but with Naruto, and now this new series I've found, I don't think it's bad, especially as a parent.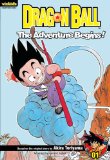 As I was searching Amazon for links for my previous post, I found this listing.  Dragon Ball (the first, actually good, half of the series) is getting made into Chapter books.  It's not scheduled until August 2009, and there were at least 3 more set to follow this one.  Those didn't have any cover pictures though.
While Dragon Ball Z got all the hype, Dragon Ball, the part of the series that made it popular in the first place hasn't gotten nearly the attention it deserves.  The manga started here in the US when Viz was publishing floppy comics, before the graphic novels became popular.  This last year Dragon Ball has returned through the VizBIG compilations, but it's got a Teen rating.  A little overly conservative in my opinion.  So I think it's good to see it coming out for the audience that should read it most; young kids.  Dragon Ball follows Goku's adventures when he's young, and I think will appeal to the young audiences much more.  And there's an actual story to follow in Dragon Ball, so the pages wouldn't be filled with POW! BAM! SPLURT! as Dragon Ball Z would, no doubt.
Dragon Ball is a classic in every since of the word, and I applaud Viz for making this one available to the proper audience, even if it has to be in an altered form.