Yuko, Watanuki, Domeki and Himawari are back! xxxHolic Rei represents a "return" to the otherworldly setting of Yuko's shop, where wishes are granted., but always for a price. The visitors are as strange as ever–two best friends whose cell phone trinkets share eerie similarities, a disembodied voice that is impossible to resist–but even by Yuko's sordid standards, something is truly odd…Return to the elegant world of CLAMP's metaphysical masterpiece.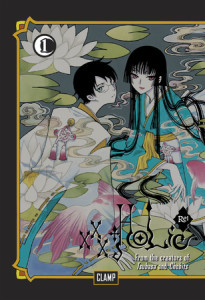 xxxHolic Rei Volume 1
By CLAMP
Publisher: Kodansha Comics
Age Rating: Older Teen
Genre: Supernatural
Price: $10.99
Rating:





xxxHolic returns after a 19 volume run to continue the adventures of Yuko, Watanuki, Domeki and Himawari as they grant wishes at Yuko's wish-granting shop. While this is a return for the characters, only returning readers will really have an idea of what is going on.
xxxHolic Rei starts out as if it were another chapter of the xxxHolic series before it ended. Watanuki is the cook and housekeeper for Yuko, the shop owner with strange mystical powers that draw people to the shop "because they need to." Domeki is Watanuki's classmate who also works at a shrine, and drops by for Yuko's help. While the opening scene shows that there is an established relationship between these three people, how or why is never explained to the reader. The assumption is made that someone picking up this volume will already have read the first series, and knows all about these people, how they are related and why they all work together. As someone who only read the first volume of the first series, this felt very alienating. There was a lot I could guess as a reader, but it diminished the potential enjoyment of the series to have work out all these things as I read it. A first volume of a series, continuation, sequel or whatever should have enough of an introduction that new readers don't feel left out. This volume failed in this respect.
There are two stories in this volume. The first is about two "best friends", who are drawn to the shop for some reason. As the story progresses, one of the girls keeps getting her, and her injuries are mirrored on cell phone charms both girls share. This story was okay. It showed how ugly women can be toward each other when they feel betrayed, and what lengths they will go to for some sort of retribution. The second story involves Watanuki being used by Yuko to lure a spirit to her shop where she can destroy it. This story was close to what I would call an arc story. It implies there is something about Watanuki and a choice he will have to make. I didn't care for this story as it left more feeling confused and lost more than anything else. With there being so much I don't know already about the series, is this a new mystery that will be played out, or is it connected to the previous series and I am just missing something? Neither story really engaged me.
The characters didn't engage me either. Watanuki comes off as a jerk, especially to Domeki, who doesn't seem to do much of anything to incur his wrath. Even his compliments are met with hostility. Domeki seems unemotional and apathetic, and Yuko–she's all over the place. Mostly she's mysterious in that frustratingly annoying way.
The art is very CLAMP. Lots of tall and lanky characters. Yuko's kimonos are elaborate and beautiful. Just looking at the cover design with the play between Watanuki's and Yuko's is amazing. The styles continue in the volume along with some elaborate hair styles. CLAMP continues to do incredible art work.
xxxHolic Rei is a series that is made just for fans of the previous series. There is nothing here to help ease a new reader in, or make the characters appealing to those who don't know how they got to this point in the series. I don't mind a story that starts in middle, there should be something for the new reader to latch onto as an anchor. This volume doesn't do that. A first volume is meant to pull the reader in, not push them away. Fans of CLAMP will buy this series regardless. New readers should exercise some caution.