Lucia is the new girl at school. She and her sister run a public bath that's all the rage. When Lucia meets a terrific-looking surfer boy, there's just one little problem: Lucia is a mermaid–not just any mermaid, but a princess on an important mission to save the seven seas from an evil force bent on taking control of the marine world. Such a responsibility doesn't leave much time for romance. But Lucia vows to protect her world and win the heart of handsome Kaito.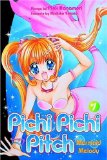 By Pink Hanamori
Publisher: Del Rey
Age Rating: Teen
Genre: Fantasy/Romance
Price: $10.95
Rating:






Buy This Book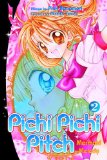 This series is a a magical girl-fantasy-romance.  Mermaids exist and live in the seven seas.  Each sea has a princess with a pearl that gives them special powers.  For not only can mermaids appear as human and walk on land, the princesses can transform into Idols, microphones and all.  This series centers around three of the princesses.  Lucia is the pink Princess of the North Pacific.  She has come to land to find her pearl before her coming of age ceremony.  She gave it to a boy she saved from a ship wreck when she was young.  Hanon is the blue Princess of the South Atlantic and Rina is the green Princess of the North Atlantic.  They join Lucia after escaping the destruction of their kingdoms and protecting their pearls from the mysterious Gakuto, who is determined to get all the mermaid princesses' pearls and rule the seven seas.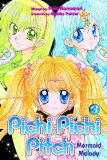 Along side the fighting Gakuto's evil minions and protecting their pearls, the three princesses' lives are complicated by the human males they meet.  Lucia is in love with Kaito, the boy she gave her pearl to.  Kaito is in love with her too, but only her mermaid side.  Of course, Lucia can't tell Kaito who she really is, or else she'll turn to sea foam.  Hanon is likewise smitten with the music teacher at school, but he only has eyes for another mermaid he saw several years previously.  Rina, the tomboy, doesn't claim to like anyone human boy, but one persistent, older boy seems to capture her attention.  The chapters mostly alternate between the romance and the fight against Gakuto.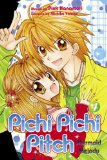 The series is divided into two arcs.  The first four volumes are devoted to the Aqua Regina arc.  The mermaid princess' are charged by the mermaid deity, Aqua Regina, to stop Gakuto, save the other princess' and protect the humans from the devastation Gakuto and a mysterious woman with him plans to wreck on the world.  This first arc has some good twists which lead up to an exciting and climatic battle.  If I were to rate just this first arc, I would give it 5 stars.  It was well written and everything led up to the ending, tying all the loose ends together for a happy ending.  And it should have ended there.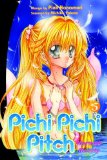 Instead, the series goes into a second arc.  Much like the unplanned sequel to a successful movie, Kaito and Lucia are separated.  Kaito gets amnesia and disappears, causing them to start their relationship all over.  I really hate stories that resort to this kind of plot.  This second arc, the Resurrection of Michel, is only two volumes.  Michel is an ancient being known as a Winged One.  He wants to destroy the human world and and bring back his race.  Lucia and the other mermaid princesses declare they will fight Michel instead of joining him, and it's a race now to find all the pieces of the Orange Princess pearl to help the new princess be born before Michel can and be resurrected.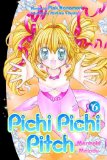 This second arc didn't hold a lot of interest for me.  The story seemed sloppy and thrown together instead of carefully plotted out.  It takes the power of everyone we've encountered over the entire series, enemies and all, working together to defeat Michel. It tries to make it feel like it was planned all along, but that isn't how it comes off.  This arc is filled with a lot of melodrama, between Kaito's guilt for wanting to leave the young girl Michal that has latched on to him, and Lucia constant attempts to win him back.  Once again, the story arc is tied up neatly, so I will give credit where it's due.  Hanamori does a good job of bringing her story to an end, and does so satisfactorily. The final volume is filled with one shots more than having a specific story arc.  It ties up some left over romance and gives a glimpse into Kaito and Lucia's future.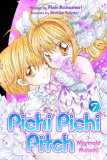 Overall, Pichi Pichi Pitch Mermaid Melody is a decent series.  It stresses themes of friendship and true love that kids like to read, and that teens should see more often than the "mean girl" stories that seem to get more play.  The romance is cute with lots of blushing and light kisses traded between couples.  It's filled with fashion and while the music can't be heard, their pop idol personas are still full of energy and fun.  This is a great title for tween-to-teens and would make a great edition to any teen library collection.  For older readers, it's a fun read that really rocks at the beginning, but starts to drag at the end.  Only pick this up if you like mermaids/magical girl manga.