Homely and shy, Himé is burdened by the name her mother gave her, "Princess." Wanting nothing more than to be unnoticed and live a modest life, Himé gets a jolt of inspiration when she tries a dance class where she meets Tango. her teacher/dance partner, Tango happens to also be her classmate at school. Unfortunately, Tango is desperate to keep his ballroom dancing a secret, believing it will ruin his cool image if anyone at school finds out. Will Tango quit teaching Himé in order to keep his secret or will he be the partner Himé believe he is destined to be?
Let's Dance a Waltz Volume 1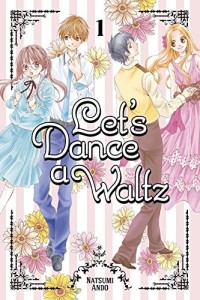 By Natsumi Ando
Publisher: Kodansha Comics
Age Rating: Teen
Genre: Romance/Dance
Price: $10.99
Rating:





I haven't read a Natsumi Ando series before. It's not like I haven't had the chance. I've had her series Zodiac P.I. in a to-read pile for ages, but have always had some reason to pass it up. The start of this new series is the perfect opportunity for me to stop procrastinating and finally read one. Let's Dance a Waltz is about competitive ballroom dancing, a subject you wouldn't think would be all that interesting, but Ando makes it so with engaging characters and an almost shonen take on dance.
Four characters make up the core of this first volume. Himé Makimura is the protagonist. She is shy and rather mousey in looks and personality. She comes to the Minami Dance School to try out dancing after the owner encourages her by telling her she could become a princess. Tango Minami is the son of said owner, who used to ballroom dance competitively, but has since given up. He works at the dance studio to make extra money. He prefers dancing on his own, and is considered good-looking and cool at school. Yusei and Sumiré are the star dance couple at the studio. They are also Tango's childhood friends. They both want Tango to start dancing competitively again, and see Himé as the chance they've been waiting for.
I really liked this first volume. I wasn't too thrilled by the emphasis on body image and conforming to societal expectations, but Himé's hangup about her looks and living up to what she thinks is her mother's expectation is completely believable. I actually liked Himé with her round face, and fuller figure. I also liked that other than one jerk boy, no one criticized Himé's size or appearance. Even Tango was more worried about his reputation being ruined than Himé's appearance when he first dances with her. Sumiré admired Himé's muscle structure and both Yusei and Sumiré were supportive of Himé's abilities with little concern for her weight. This made the reveal at the end more believable and easier to take.
The relationships were handled very well. I especially liked Tango's and Himé's up-and-down relationship. Himé just wants to dance with Tango, but he ignores her, for fear their schoolmates will find out, but when she starts avoiding him to keep her practices with Yusei a secret, Tango is suddenly bothered by the loss of her attention. Sumiré was a bit of a trap too. Just when it seems like she might be jealous of Himé, she turns out to actually be very supportive of her wanting to dance, and dance with Tango.
I also liked how Ando portrayed the ballroom dancing. Instead of just showing the couple dancing around a dance floor, she likened Himé's partners to a different experience. When she first dances with Tango, she feels like she is a princess, but when she dances with Yusei, it is like she at a fancy 8-course dinner. These scenes reminded me a lot of The Drops of God, where wines are described in wild and far out ways. While it's exciting to see to talented dancer at work, the addition of these other sensations adds to the experience.
Let's Dance a Waltz Volume 1 was a really fun read. The characters are very engaging and the story has sparked my interest. Ando's art is superb. The characters are varied in appearance and dress. The dancing was well done as well, with some of the ballroom gowns looking gorgeous. I can't wait to see what a dance competition will be like, and what new experiences Himé will have on the dance floor.