In a previous post, I spoke about the Kindle as being a possibility for reading electronic books and manga. But, a little searching around the web has brought to light another possibility that is much more inexpensive, and more readably available. As a matter of fact, you may have on in your home right now! It's the Nintendo DS.
Nintendo's newest handheld game platform can be a tool for more than just games.While Nintendo has been announcing products that bring manga to the Japanese DS users, we here in the US can only hope and pray that these products are brought over. But, thanks to good, old, hacker ingenuity, (and some hardware from Asia), programmers and others can and often do make their own programs, or "home brews" to run on the DS. For more information on Home Brews for the DS, see this wiki.
For purveyors of portable digital manga (and who are willing to risk their DS) would be two home brew programs: PictoDS and Comic Book DS. A review of the software running on a DS, with pictures can be found here. It uses the dual screens and touch screen to really give a customizable reading experience. You will also need to convert your files to a .nds format, but you're going to have to find that part out on your own. Disclaimer notice here though, it won't work unless you have hardware described in the wiki article linked above, and there is no guarantee that it will work properly. Don't ask me for help, I haven't tried this. Yet.
What makes me bring this up though, is some unrelated but very interesting news that was announced by Nintendo about a month ago. You will be able to download content for the DS wirelessly through the Wii. DS/Wii owners will be able to download additional levels and demo games from the web onto the Wii and then transmit them wirelessly to the DS. This seemingly innocuous news can actually have some big implications.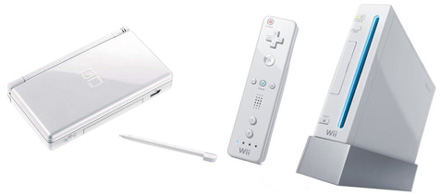 Imagine being able to buy a slot-1 card that comes with a program like Comic Book DS that will allow you to read comics and ebooks on your DS. Now, imagine being able to download books and manga through the Wii connection and transferring to the card. An electronic device that allows you to carry and read several books at a time. A program written like the Comic Book DS wouldn't require publishers to reformat their books before publishing. Digital manga offered at the same time or shortly after the print release, at a lower price point could bring in more readers. And putting them on the most popular handheld device in the hands intended target audience can only mean more business. I know as a Mom, having lots of things to keep the kids busy while on long trips, etc. is definitely a good thing. Being able to keep lots of books in an electronic device made to be handled by kids is even better.
For now, this is only a pipe dream. We will have to wait and see how the DSvision does in Japan, and if Nintendo thinks it's worth bringing to the US. Until then, there is the homebrew route, that offers to make your DS more than a gaming machine, if you've got the money and are tech savvy enough to get it working. There's plenty of unlicensed, scanalated manga to try it out on. I'm really hoping that Nintendo wakes up and does the right thing.
The Kindle just might have some competition for the "iPod of Books" title.