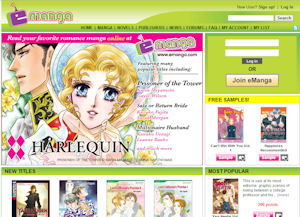 I've never been much of a romance fan, and have never read a Harlequin romance novel in my life.  So, when I was given the opportunity to read some of the Harlequin manga released by DMP on their online manga site eManga, I decided to check some of the titles out.  I read 7 titles in total, that seemed to run the gambit from historical to modern settings, and from chaste fade-to-black love scenes to those slightly more explicit, but not enough to rate a M rating.
Some general observations first.  DMP's eManga site is very well done.  The navigation is clean and concise, and easy to get around.  The reading list displays all of your titles, including how long your rental will last.  The manga reader is also easy to navigate.  It allows for either one or two page viewing, as well as zoom in and out.  The two page view fit my monitor just fine though, and I could read the text easily without zooming.  My only complaint here was about the bookmark feature.  It didn't really work.  I tried to use it, but it didn't remember my page when I came back the next day.  Luckily had written down my last page as well, so I wasn't too inconvenienced.  It would have been nice though, if it had worked properly.
For the most part, I enjoyed the Harlequin titles.  They all went fairly quickly and make for good light summer reading, such as a relaxing day at the beach. They are very much wish fulfillment, with strong, independent women (in their own way) meeting men that seem jerky at first, but then turn out to be kind and great lovers. They were fun, but they're not anything I'd be interested in re-reading.  They can get rather formulaic and cliche, which gets boring fast.  The only real problem I had with all of these titles was the text.  It doesn't appear that much time or effort was put into it.  The text looks like it was typed in, and no effort was made to make the text fit in the word balloons.  You do get used to it after a while, but really, even scanlators do a better job.  For something you're paying for, you expect a better presentation.
Honor's Promise – Rating:





– I liked most of the characters in this story,  especially the protagonist.  She was feisty and fun.  The plot wasn't too over used, though the Greedy Family Lawyer as the villain was kind of obvious and cliche.  It's a decent read, and was a pleasant introduction.  Would Trade For.
Keeping Luke's Secret – Rating:





– I really liked this one.  I enjoyed out the protagonist, who is a historian that was asked to write a long awaited biography, stays true to herself, and her work.  She's not looking for money or fame.  The story ends with a bit of a twist and a fairy tale ending.  Must Buy.
Marriage Under An Italian Sun – Rating:





– This one I also enjoyed.  It was a well written story and the setting in an Italian villa was nice.  The story had a nice mature feel to it, as it dealt with different kinds of loss and trying to make the right choices in order to be happy.  It had some nice twists that kept it from becoming predictable.  Must Buy.
Millionaire Husband: Justin's Story – Rating:





– This was my second favorite story of the seven I read.  I liked the switch up of making a guy the protagonist instead of it being a woman.  I found his portrayal to be realistic considering his past and his slow by steady change to be well done.  Must Buy.
Prisoner of the Tower – Rating:





– This was the best of the seven I read.  I love historical dramas, and this fit right into that.  The characters were well developed and very likable.  I found myself rooting Emma on and wanting to slap Baron Greystone.  The art is also a treat.  I highly recommend this title and a full review will be forthcoming.  Must Buy.
Sale of Return Bride – Rating:





– This was the most cliche of all the stories I read, both in story and in characters.  I was predicting every story element before they happened, and the ending was no surprise.  It wasn't badly written or anything like that.  It was just predicatable, and that lowered the enjoyment for me.  Good Way to Kill an Hour.
The Sheikh's Reluctant Bride – Rating:





– This was another average title.  The Middle Eastern setting and situation with the female protagonist was different from the other titles I read, and I did find it refreshing.  Again, the characters are well written and the story isn't as predictable, but neither is it very interesting.  The old school feel of the art was a nice touch too.  It just wasn't all that appealing to me.  Good Way to Kill an Hour.
Overall Rating: