A mysterious illness is spreading rapidly through the halls of Fujimi High School. In a matter of hours, the campus is transformed from a place of learning into a  hive of nightmares, as the infected students collapse and are reborn as flesh-hungry zombies! Only a handful of students escape the outbreak – among them Takashi Komuro and his childhood friend Rei. He manages to protect Rei from the initial onslaught, but how long can Takashi and the other students hope to survive when the whole school – maybe the whole town – is out for their blood?!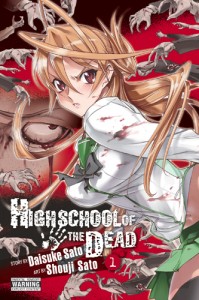 Story by Daisuke Sato; Art by Shouji Sato
Publisher: Yen Press
Age Rating: 18+
Genre: Horror
Price: $13.99
Rating:





Highschool of the Dead is "interesting" in the same way that we are currently living in "interesting times." It all depends on how you look at it. There were times when I was really interested in the story it was telling, as well as the characters. At other times I just wanted to roll my eyes, put the book down and walk away. And that is what made this series so frustrating to me.  It has a real story to tell, if you can get past the rampant fan service and blood.
Let's look at the good points about this series. First and foremost, there is a fascinating story being told in these pages. As the infected start to outnumber the uninfected, you can see the fabric of society start to break down. This is shown through the monologues Takashi often goes into,  and the obstacles our heroes face. Throughout the volumes, Takashi is constantly commenting on how quickly he and his friends adapt to a new world where the old rules no longer apply, like smashing a cash register for cash is acceptable for survival, and the worse thing you can do to an enemy is to NOT kill them. In just 12 hours they can go from running for their lives to happily taking on a group of zombies without a second thought. It was these observations that drew me into the story most.  But even as our heroes seemed to start to lose their humanity, they do find ways to reclaim it, such as in their saving of the young girl Alice.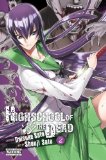 Another aspect I really liked was the denial about the reality of the situation. When the outbreak first starts, Takashi comes right out and says they aren't in a movie or video game, and yet everyone is behaving like a zombie from one. Though, he never gets to say the whole word "zombie". He gets cut off. And later Hisashi, his friend and Rei's boyfriend, dubs them all "they" because he can't bring himself to believe they are something from the movies, and this is how they are referred throughout the books. No one wants to cross that line.
I also really appreciated that there are so many female characters that are smart and self-reliant. Rei, Takashi's childhood friend is full of fire, and is bashing heads with her mop handle/spear. She also recognizes the danger Shidou poses and would rather take her chances with the zombies than him. Saeko is everything you would expect from the captain of the kendo club. Wielding her wooden sword, she is calm and cool in the face of danger, and always ready to protect the a person's honor. Saya is constantly proclaiming that she is a genius, but it isn't just boasting from her.  She is the first to figure out that it's sounds that attract the zombies. And even though she hides behind Hirano, she will get her hands dirty when necessary. The guys aren't so bad either. Takashi shows a lot of leadership, even though he would say he's just trying to keep him and Rei alive. And Hirano is hesitant at first, but once he gets a gun in his hand, he really proves his worth.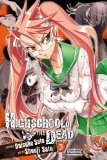 The biggest downside of this series is also the women. It's not the way they act, but the way they are drawn. All of them are drawn with big breasts, with the school nurse Shizuka having back breakers. I'm not sure which is more unbelievable, the breast sizes or the zombies. It gets worse in volume 2 when all the women take a bath together, and they are comparing sizes and feeling each other up. It's like a pseudo lesbian love fest. All through these three volumes, almost every other page has a panty shot. It gets really close to being overwhelming. It also takes all the wind out of the more serious elements of the story. You can have this wonderful monologue from Takashi about how they world they knew was gone on one page, to the women half-naked and bouncing around in the next. It's hard to take the series seriously with gratuitous breast grabs going on.
The art is fairly standard for a shonen series. The characters are rather generic looking, though they are just distinct enough to tell apart at sight. I was much more impressed with the horror side of it. There were a lot of nice details on the zombies, with chunks of flesh torn out and bones sticking out. While graphic horror isn't usually my thing, I found I could appreciate the look of the zombies. They are just what you'd expect for a zombie apocalypse.
Highschool of the Dead isn't going to be a title for everyone. Both the horror and fan service will keep some readers from even picking up the volumes. But I think the story of society collapsing and how people react to it is an interesting one, and worth digging through the gore and gratuitous boob and panty shots to get to. I would recommend Highschool of the Dead to veteran manga readers and horror fans. Anyone easily offended or disturbed need not apply.