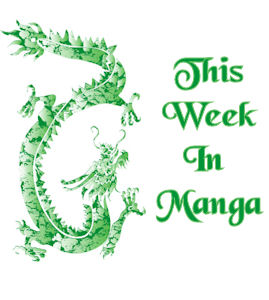 Shopping Alert!
Deep Discount.com is having a sale on some manga titles in their book section. As well as discounting the books, they are doing a "buy 3, get 1" free promotion on certain titles. This is a comparable deal as Amazon, and better than Borders "buy 4, get 1 free". Their shipping is free, and the books are discounted as well. The best discounted deals are on D. Gray-man from Viz, Melancholy of Suzumiya Haruhi from Yen Press, and later volumes of Black Jack from Vertical. Also included in the sale are several of the VizKids titles such as Pokemon; Adventures and Diamond and Pearl, Leave It to PET, and Legend of Zelda, as well as Udon's Big Adventures of Majoko. Vampire fans can pick up most of Vampire Knight, you can catch up on the latest volumes of Skip Beat!, or pick up most of Record of a Fallen Vampire which just finished this month. BL fans can get Junjo Romantica and Loveless. If you've got some spare cash, definitely check out this sale.
How Bad Is It?

Via Twitter. Builder, a ZDNet Japan blog, has posted the second part of an interview with Misaaki Hagino, President and CEO of Voyager, a e-book developer.  Hagino talkes abou the problems with DRM and getting manga on Apple devices, because of the strict restrictions Jobs and Apple has put on content, and the arbitrary way in which it's enforced. The interview talked mainly with Hataraki Man (Working Man), a senien manga about a woman working in the publishing industry, which was rejected because of some nudity, but it also mentions that up to 30% of the titles submitted to Apple is rejected. ANN discusses the article, and added more info about iTunes from Twitter comments. This is precisely why I have a problem with Apple and Steve Jobs. I don't believe they, or anyone else has the right to decide what anyone else can read or watch on their own personal hardware. I don't care how pretty the hardware or software is. There are some lines that just can not and should not be crossed for any reason. Censorship is one of them.
The End is Near!

While there hasn't been any official word from Arakawa or Square Enix, the director of the Full Metal Alchemist: Brotherhood anime has stated on his twitter account that Arakawa has an ending for FMA ready to go and that he and his staff are in the process of animating it. This is both good and bad news. It's good that the anime ending will match the manga ending, as FMA:B has (for the most part) been following the manga really well up until now. But it's sad that FMA will be ending. It's been quite a 5 year ride with this manga, and I'm going to miss Ed and Al dearly. Since Irie has spilled the beans, I wonder how long it will be until there's a confirmation/announcement from the publisher? I'm sure they don't want to the series to end either. UPDATE: Sighting on Twitter of confirmation.
We Need More Of This…
And not necessarily for the reason you're thinking. US comic publishers got together, and with the FBI's co-operation, got a pirate comics site shut down. What's probably the most amazing thing about this is that comic publishers got together and made something happen. On twitter there was some buzz about it and how manga publishers should get together and do the same thing to manga aggregator sites that feature licensed titles. Simon Jones of Icarus Publishing (NSFW) has some suggestions for scanlators who want to avoid this fate. While I do believe sites that host licensed titles should be forced to take them down, what I would really like to see, and I'm sure many others would too, is comics and manga publishers coming together to create aggregator sites where people can legally go to get their fix. But that's probably not going to happen any time soon, is it? It's easier to destroy than create.
The End is Here!

The dog manga, Inubaka: Crazy for Dogs, has ended it run in the May issue of Young Jump this last week. It will complete at 22 volumes, and was one of the few dedicated dog manga available in the US. Inubaka isn't a bad title, and might have taken off better if it wasn't for the fan service that pushed its rating up to a Teen+. Dog lovers will need to go somewhere else not for their fix of cute dogs and girls taking care of them. Viz will have published 16 of the volumes in July, and will hopefully complete it's run for US fans.
NYT Best Seller List
It's a serious shift on the list this week! First, Twilight continues to hold on at #2 on the Hardback Comics list. Then over in manga, Yen Press dominates the list while Del Rey takes back the top spot. At #1 is Tsubasa vol 26. One of the few Viz titles (wow, I don't think I've EVER said that!) is Naruto vol 47 at #2. Yotsuba&! vol 8 falls back one to #3 while last week's #1 Rosario Vampire Season II vol 1 falls back three to #4 . Black Butler vol 1 stays in the top 5 at #5 while Tokyopop returns with Fruits Basket: Banquet, a primer for the series at #6. Yu-Gi-Oh! R vol 4 stays at #7 while Spice and Wolf vol 1 falls 4 to #8. Nightschool vol 3 falls back one to #9 and Soul Eater vol 2 hold on to #10. All the big players make it this week.  Yen Press and Viz continue to show they have the strongest catalog while Tokyopop and Del Rey stick to one-hit-title-wonders. Just like in investing, it's diversify or die, guys.
Manga For Your Ears
Manga Out Loud
This Week at Manga Village
What I'm Reading
Shonen Jump June 2010
Pig Bride vol 1-3