In the year 2022, gamers rejoice as Sword Art Online–a VRMMORPG (Virtual Reality Massively Multiplayer Online Role Playing Game) like no other–debuts, allowing players to take full advantage of the ultimate in gaming technology: NerveGear, a system that allows users to completely immerse themselves in a wholly realistic gaming experience. But when the games goes live, the elation of the players quickly turns to horror as they discover that, for all its amazing features, SAO is missing on of the most basic functions of any MMORPG–a log-out button. Now trapped in the virtual world Aincrad, their bodies held captive by NerveGear in the real world, users are issued a chilling ultimatum: conquer all one hundred floors of Aincrad to regain your freedom. But in the warped world of SAO, "Game Over" means certain death–both virtual and real…
Sword Art Online: Aincrad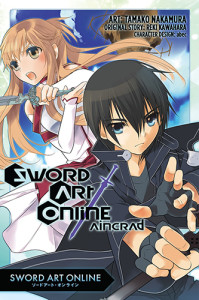 Art by Tamako Nakamura; Original story: Reki Kawahara
Publisher: Yen Press
Age Rating: Teen
Genre: Drama/Game
Price: $20.00 USD
Rating:





Sword Art Online: Aincrad manga is based on the first two light novels from a series of the same name, and belongs to a genre that become popular lately; players of an MMORPG become trapped in the game world and must fight the game to get out. I've never been interested in this genre, but I was still curious enough about it to at least read the manga, an omnibus of the two-volume series. I did enjoy the story as a whole, but there are still a few spots that felt lacking.
The story centers around Kirito, a teenager who was a beta tester for Sword Art Online and became trapped along with the 10,000 other players on the game's first day. It is two years later, and there are only 26 levels to beat before reaching the final boss, the creator of the world Akihiko Kayaba. The players have settled into their new life in Aincrad, fighting, getting stronger and clearing levels. There are towns with tradesmen and farmers, and guilds to organize everyone. The strongest of these guilds is Knights of the Blood. Returning to a town to trade and heal, Kirito runs into Asuna, a commander in the Knights of the Blood. She wants to recruit Kirito for the next level they are about to take on, but Kirito and Asuna make a deeper connection, and the story becomes just as much about their romance as their battles.
As the two main characters, I did like Kirito and Asuna. Kirito was a loner, also known as a Beater. Beta testers were also considered cheaters to new players because of their greater knowledge of the game. He isn't unfriendly, just reluctant to make connections. Asuna is his opposite in many ways. She is cheerful and outgoing, also known as a celebrity in the game. They work well together, a feeling that translate on and off the battlefield. Their feelings for each other becomes a focal point of the story, but I didn't see the chemistry between them. Their romance felt rushed, as if getting them together was just a formality for the rest of the story. I just didn't feel any emotions between them. We were told rather than shown how they felt about each other and that lessened the effect.
The supporting cast was a pretty interesting bunch. Klein, a fighter, and Agil, a shopkeeper were friends of Kirito and Asuna. They help out the couple both off the field and on. They also brought some of the lighter moments to the story. Klein getting flustered around Asuna made for some fun moments. Agil's honesty about joining the 75th floor battle was refreshing.
The story moved at a quick pace, slowing down only for some character development for Kirito, or some development for Kirito's and Asuna's relationship. References to the world being a game were fairly constant, and players had to keep it in mind even as they came to accept it as the real world. I did like that the manga dealt with PK, or Player Killers. Kuradeen, an evil man who joins the Knight of the Blood to be near Asuna, turns out to be one these players. Kuradeen makes some references to Kirito that killing him make Kirito a murderer, even though he just did the same thing for the sake of returning to the guild as the "lone survivor" of a trial. These references just get left hanging.
This was the biggest problem I had with the volume. It felt more like bullet points being hit on the page than a cohesive story. The scenes didn't flow well and changed abruptly. The characters seem to know things without there being any or very little groundwork laid for it. With the manga having only two volumes to cover two novels, it felt like a lot was left out. The story had to be compressed so much that only major points could be hit, leaving out a lot of development.
Overall Sword Art Online: Aincrad is an entertaining read. While the art is rather generic, some characters such as Klein and Kuradeen did stand out. If you're interested in the plot and don't want to take the time to watch the anime or read the original light novels then this adaptation will serve well. A lot is being missed with just this manga adaptation, and I am considering reading the light novels to see what was dropped. A third volume would have made a big difference in the character development. If nothing else, this manga is a good gateway to the light novels.
Review copy provided by publisher.