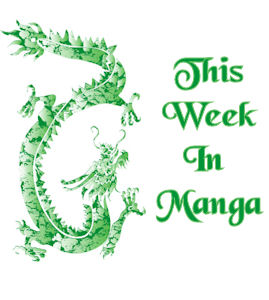 May Movable Manga Feast
This month's movable manga feast featured the Vertical title To Terra… a sci-fi shonen from the 70's. It was hosted by Kate Dacey of The Manga Critic blog. Reviews for the title were a lot more varied than on previous titles. People definitely had their opinion of this series and had no problem expressing it. You'll find an introduction to the series and all the links to the participating reviews at the top link.
Well, That's a Surprise
Here's something that shouldn't shock reader of Hunter x Hunter. It's going on hiatus. Again.  What is this? Once a year at least, this title has to stop? Is this something in Togashi's contract? If he hates writing this series so much, why doesn't he just cancel it. Or hand it off to an assistant. At least do something to give fans closure. This is like a bad relationship, and someone's gotta stop the vicious circle.
This Actually Is!
Dark Horse, which has started to feature titles on Facebook, recently had one entry on Ghost Talker's Day Dream, which included the news that the series would be returning in September. The title was previously reported cancelled, so this is very good news for fans. It is a seinen horror action, so it's written for adults. It can also be rather graphic, so be warned if you're thinking of checking out this title.
Talkin' 'bout a Solution
Over on Twitter, Erica Friedman of Okazu blog decided to take things into her own hands (sort of), and start crowd sourcing for a solution to the problem of illegal distribution of manga. After outlining the "Problem", responses started to come in for a "Good Solution". After the first session, the conclusion was:
To reiterate: The first wave of the Good Solution for Manga: Browser platform, pay and POD are a must, open-source on language and region…

…creator community, rewards to creators from user focus.
To see more of the responses, search Twitter for "yuricon", "Problem", "solution" and you'll get most of the conversations.
Back to the Problem
Robot 6 helps to point out why illegal distribution is a problem, and why publishers need to implement their own "Good Solution". Google recently released its list of the 1000 most visited websites based on their Double Click Ad Planner, and One Manga, the aggregator site that hosts illegal scans, placed at 935. It beat out many corporate sites such as NFL.com and ToyRus.com. If this doesn't convince publishers that a "Hulu of manga" is needed, nothing will.
NYT Best Seller List
It's all out war on the list this week, between Viz and Yen Press.  Starting with the Hardback books, Twilight has once again reclaimed the top spot from Kick Ass. Down on the manga list, Yen Press has also reclaimed the #1 spot with Black Butler vol 2 with Black Bird vol 4 falling back to #2. Pandora Hearts vol 2 debuts and takes the #3 spot, forcing Naruto vol 47 back to #4. Black Butler vol 1 holds on to #5, as D. Gray-man vol 17 falls three to #6. Kobato vol 1, the new CLAMP series, and debuts on the list at #7 followed by Rinne vol 3 at #8. Yotsuba&! vol 8 holds onto #9 and Rosario Vampire: Season II vol 1 falls four to #10. Interesting list, as Yen Press and Viz alternate up the list with Yen taking all the odd number and Viz getting all the evens. It's also the start of the battle of the blacks. We'll have to see if next week, the Butler can hold out, or if the Bird will take back it's #1 spot.
News From Japan
More Manga We'll Never See
ANN reports of a new manga launching in Japan that we'll never see legally stateside. It's a shojo title for the movie of the TV series Macross Frontier, the 25th anniversary TV series, and sequel to the original Macross, which was one of the three series' that made up Robotech. This particular title is actually about one of the characters, Sheryl, who is the pop idol at the beginning of the series. This manga tells of her beginnings. Due to lawsuits over copyright issues, the US has never had an official release of a Macross series since Macross Plus, and it doesn't look like things will be changing any time soon, which is a real shame, because is any series could popularize mecha titles in this country, it would be Macross.
Manga For Your Ears
Anime Today
ANNCast
Spiraken Manga Review
This Week at Manga Village
What I've Been Reading
Tena on a S-String vol 2
Yotsuba&! vol 8
Shonen Jump July 2010